Top Things to Do in Prague, Czech Republic
Prague is a beautiful city with cobblestone streets, clean façade baroque architecture, excellent restaurants, great coffee, and a charming melee of fairy-tale buildings and orange hued street lanterns.
Prague is known for its iconic sites such as the Astronomical Clock, Old Town Square, Prazsky hard (Prague Castle), beer made by monks in a monastery, beer baths, and a plethora of famous artists and authors such as Milan Kundera and Frank Kafka (a giant 11-metre-high Kafka statue is a must-see).
Whilst I was there, I wandered across the beautiful Charles Bridge, walked through the incredible animal displays within the Czech National Museum in Wenceslas Square, strolled along Pařížská Street to window shop at Gucci and Louis Vuitton, and I indulged in incredible food and speciality coffee.
Only a 1 hour 45 minutes flight from London, Prague is a top destination for a weekend away.
Here are the top 6 things I recommend…
The Alchymist Grand Hotel and Spa
The Alchymist is one of the most magical places and you can't believe it exists. Up the hill on a cobble stone street, minutes away from a castle, rests this wonderful baroque stone structure containing 46 beautiful rooms. Located in the Mala Strana area right next to the American Embassy, this place once housed four former bourgeoise houses and it is now one of the most gorgeous boutique hotels I have ever visited.
The interior design is keeping with the baroque style with hues of maroon and faded yellow, four poster beds, chandeliers, and marble bathrooms.
The lovely receptionist greets you with their own brand of champagne upon arrival, which they offer alongside cheeses every day at 4pm. You can specially order treats for your room from homemade pralines, chocolate covered strawberries, rose petals, bouquets, a birthday cake, martini set, and much more.
The in-house Ecsotica Spa has an Indonesian feel with a wooden bridge that leads you over a pond of fish to treatment rooms, pool, and steam rooms.
There is in-house dining at The Aquarius restaurant which offers international dishes for breakfast, lunch, and dinner. The hotel also operates "the best Neapolitan Pizza place in Prague" on the same street called San Carlo.
The Alchymist might be the most romantic hotel you have ever been to, and I highly recommend it.
The Alchymist Grand Hotel and Spa
Tržiště 19, 118 00 Malá Strana, Czechia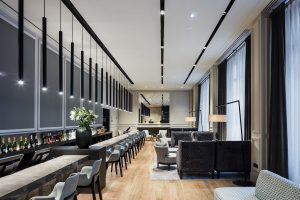 BoHo Hotel Prague
For a chic stay in a modern hotel, BoHo Hotel Prague is a sleek place to be and is in an ideal location five minutes walking distance from the Old Town Square. The service is great, with staff greeting you as you step out of your car to the welcome glass of champagne as you check in. The entrance and architecture are beautiful, with natural dark woods, floor to ceiling windows, and a long stylish bar on the ground level where one can relax, order an array of cocktails or a Czech beer.
Member of Small Luxury Hotels of the World, BoHo has 57 luxury rooms that are stylish and minimalist. Inside the rooms are flat screen TV's, stand-alone bathtubs, excellent bath products and an array of great snacks.
The spa area has a jacuzzi with waterfall, steam room, sauna, and fitness area. There is a Library room where one can relax or do some work and the 24-hour concierge team at reception is available to cater to your needs. BoHo can even organise your stay via private jet!
BoHo Hotel Prague
Senovážná 1254/4, 110 00 Nové Město, Czechia
https://www.hotelbohoprague.com/
Super Tramp Coffee
Super Tramp is a hidden gem coffee shop that is so hidden, you might just miss it! Down a dark alley way that leads into a courtyard, Super Tramp is in a ramshackle place that feels artsy where delicious coffee is served to you in Japanese style mugs.
Super Tramp Coffee
Opatovická 160, 110 00 Nové Město, Czechia
Café de Paris
This was one of the most surprisingly charming French restaurants I have ever dined at, with only a handful of dishes on the menu, please go here and order the steak, the green sauce is incredible!
Café de Paris
Velkopřevorské nám. 4, 118 00 Malá Strana, Czechia
Café Savoy
This beautiful upscale café serves incredible steak tartare that they make at your table.
Café Savoy
Vítězná 124/5, Vítězná 5, 150 00 Praha, Czechia
artic Bakehouse
I recommend the incredible fresh cinnamon rolls with homemade cream cheese frosting.
artic Bakehouse
Újezd 11, 150 00 Malá Strana, Czechia