As Christmas is approaching, what better way to spend it than have a European city break in one of the top European destinations in the world: Budapest, Hungary. Written By Jessica Patterson.
Known for its incredible Christmas markets and 16th century Turkish thermal baths, Budapest is a vibrant city soaked in history from the Ottoman empire, Germany, and Austria. The architecture is gorgeous, and Budapest has everything you would want in a cosmopolitan city, whether you want to take a mini-break or having a weekend of shopping.
Louis Vuitton, Gucci, and Jimmy Choo luxury stores line the street Andrássy whilst brands like Nike, Adidas, Hugo Boss, Guess, and Calvin Klein can be found in Westend Shopping Center. You can book a show at the Hungarian State Opera, have a boat ride along the Danube River, soak in the Gellert thermal baths, or take a spiralling tour atop St. Stephen's Basillica.
During my stay in Budapest, these are my top 5 tips:
Where to Stay: Kempinski Hotel Corvinus Budapest
Named after Hungarian King Matthias Corvinus, the Kempinski boasts an impressive entrance with high ceilings and an array of incredible restaurants, bars, and amenities. Built in 1992, the Kempinski's lobby was revamped in 2013 by London interior design firm MKV design. It is a fantastic location, just across from Erzsébet Park and views over the Ferris Wheel, and the hotel is walking distance to the popular Fashion Street where one can do a day of shopping.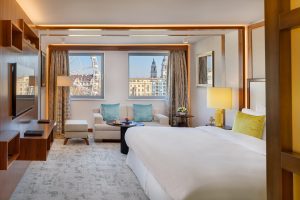 What is most impressive is that everything you can possibly want in a hotel is right there – from an incredible modern European restaurant which also serves authentic Viennese and Hungarian dishes ÉS Bisztró, the only Nobu restaurant in the region, Blue Fox The Bar, ÉS Deli, and The Living Room which is a relaxing lounge area where you can sit by the fire and enjoy one of their homemade specialty cakes and a hot drink or cocktail. There is a fitness room, meeting rooms and the spa is gorgeous with a pool, steam room, saunas, and treatments.
The ÉS Bisztró restaurant was just amazing. Tempted by the Hungarian specialty dishes, I was drawn to the various steak options and opted for a rib eye as a main, burrata as a starter, served alongside some hot homemade bread and a great red Cabernet Franc Hungarian wine. It was the best steak I had had in Budapest, second for steak must be the restaurant Tom George Osteria. I must go back to ÉS Bisztró to try the Hungarian dishes!
The Kempinski breakfast buffet was downright incredible. I highly recommend you book this when visiting Budapest. There is a homemade waffle section, omelette section, fresh juices section, make your own granola section, jams and fresh honeycomb section, breads and pastries section, yoghurts section, hot foods section (including gyoza dumplings!), eggs, cheeses, and cured meats: the list goes on. You can also specially order eggs benedict, a couple Chinese dishes or even order homemade pancakes. This place is a must!
The other breakfast places I recommend are Cirkusz Café for their great pancakes and homemade bagels and Artizán Bakery for their range of homemade croissants, buns, and pastries.
Kempinski Hotel Corvinus Budapest
Budapest, Erzsébet tér 7-8, 1051
Best Coffee: The Goat Herder
During my two months spent in Budapest, I went to The Goat Herder on Bank utca 6 almost every day. I am a big coffee fan, and I found this little place to be the best coffee in Budapest. My regular was a cappuccino, fresh mixed juice (orange, apple, ginger), and their ground-breaking homemade banana bread they make several times a day (this banana bread should win awards). The owner Dave and his wife run this little coffee shop (which has another location which is the original Goat Herder on Istvan u. 5. They really care about their quality coffee beans and all the ingredients they source.
Budapest, Bank u. 6, 1054
Best Thai: Rim Thanonh Thai Food
Before going to Budapest, I wasn't that big of a fan of Thai food until I tried the pork pad Thai made by the wonderful chefs at Rim Thanonh. It is a little hole in the wall that can probably seat 16 people max downstairs and upstairs. I also tried the green curry which was amazing, and I am literally about to try the Tom Yum as I write this.
Rim Thanonh Thai Food
Budapest, Dob u. 59-63, 1074
Best Bar: The Duchess, Matild Palace Hotel
The Duchess is gorgeous and probably most known for its secret-style entrance and rooftop views over the Danube River. I would suggest going here for a romantic pre or post dinner drink. "Her Imperial and Royal Highness Maria Klotild asked the famous architects of the palace, Floris Korb and Kalman Giergel, to set up a glamorous rooftop hideaway as a rendezvous for the Decadence Movement."
The Duchess
Matild Palace, a Luxury Collection Hotel, Budapest
Budapest, Matild Palace, Váci u 36, 1056
Best Taste of Hungary
This may be a bit touristy but if you want to try some local Hungarian food, go to Kisharang Etkezde for hot beef stew then walk across the street to the Strudel House Budapest for a lovely cherry or apple strudel with whipped cream or ice cream.
Kisharang Etkezde
Budapest, Október 6. u. 17, 1051
Strudel House Budapest, Első Pesti Rétesház
Budapest, Október 6. u. 22, 1051