With smarter technologies comes smarter banks. Smarter banks increase efficiency and so things gets done quicker. And that is what has led us to  Euro Exim Bank. We talk to Graham Bright who discusses amongst the myriad of awards the banks has won how they are helping companies processing payments cross border become easier and quicker . The world of importing and exporting just got better .
Last year, Euro Exim Bank won The Best Global Trade Services Bank Award, and it is often referred to as a "revolutionary financial institution".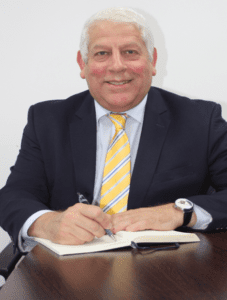 In your opinion, what distinguishes Euro Exim Bank from other financial institutions in this field?Agility, speed, service levels, infrastructure, competitive pricing and vision. Global banks are re-risking, cutting conventional business ties, closing low value customer accounts and generally reducing their risk appetite for clients in infrequently traded markets and in jurisdictions where the perception is that trade is hampered by a continued legacy of fraud, corruption and financial impropriety.  
In reality, there are many countries with growing economies, especially in Africa, which are supplying raw materials fuelling the manufacturing powerhouses of the Far East. They are ready, willing and able to trade successfully and securely, and we see growing interest from those countries for financial instruments facilitating bilateral trade. We have focused our attention on this market with the skills and infrastructure to meet these requirements and look at all business opportunities.
What are the biggest goals for 2019?
Our 2019 goals are to have our systems fully integrated, delivering real-time payments, offering global cross-border merchant facilities with an expanded branch network and handling fiat and cryptocurrencies, supporting our primary business in trade finance
What trends do you see emerging right now when it comes to smart banking?
Financial institutions are more aware than ever of the rise of Fintech companies, which could surpass the banks in terms of payment technology and trust. And smart/open banking is just another project that is forcing the industry to innovate on an unprecedented scale by rethinking their singular focus on products. Traditional high street banks need to emulate service-oriented software companies, to attract and hold onto their customers with compelling, personalised user experiences.
 For us, the main trends are the adoption of Ripple technology and the creation of a world-leading trade finance platform – not as a goal for the business, but as a powerful enabler. Indeed, Fintech is the key component, ensuring the error-prone manual processes within the trade finance ecosystem are automated, reducing times to satisfy client demands for faster KYC processes and on-boarding, economic and cost-effective creation of trade instruments and frictionless cross-border payments across financial communications networks. Ultimately Fintech is providing the means towards systems interoperability, normalisation and consolidation of data, standardisation of flows and re-usability, adding up to significant savings for the institutions
Euro Exim Bank is the first official bank to adopt Ripple's xRapid. There are plans to use XRP to power payments across 80 countries. Could you tell us more about this partnership? 
Firstly, it is important to remember that Ripple is a technology company with an underlying financial network, and ownership, management and oversight of the cryptocurrency XRP.Our partnership with Ripple started in late 2018 – as part of our Fintech and cryptocurrency strategy in technology innovation – when we joined the Ripple global payments community. We achieved current connectivity in record time, enabling us to instantly communicate and settle cross-border payments in real time with end-to-end visibility and tracking.  
 The second phase of the project was participation with Ripple's frictionless xRapid service. Payments to and from emerging markets often require pre-funded local currency accounts around the world, where liquidity costs are extremely high for smaller SMEs, making international business – no matter how well intentioned – difficult to achieve. Using xRapid, firms switch from local currency into the Ripple underlying crypto asset, and at the receiving party XRP is converted to local currency for pay away to local firms, dramatically lowering capital requirements for liquidity.
Building on our blockchain technology expertise, we are looking to embed trade finance instructions within the payload of Ripple payment instructions, thereby creating a multi-purpose immutable data element which will reduce cost, time and risk for participants. The clear long-term advantage of this approach is that any financial instruction, be it related to FX, funds, derivatives or equities, will be transportable globally in real time across the RippleNet infrastructure in frictionless, timely, immutable format.
How will Euro Exim Bank's customers benefit from the blockchain-enabled trade platform?
Initially, as our platform was built on latest technology and not encumbered by legacy applications, client benefits are harder to quantify. And, for many customers, information on blockchain solutions and how processes may be improved hold no interest until and unless they offer cost reduction and true service improvement possibilities.
In fact, no customers have specifically asked for a blockchain-enabled solution, or differentiated between providers able to offer such solutions. Ultimately, customers want their service providers to perform trusted issuance of instruments at competitive rates, in a guaranteed timeframe and with immutable records and finality.
As with many great technologies looking for a problem to solve, other industry sectors are looking for solid use cases to support the significant investments needed to fully implement blockchain-enabled solutions. That said, one of the first true use cases for blockchain solutions is in trade finance, where a large complex ecosystem of diverse players with non-standard processes and documents support an industry worth $9 trillion USD in 2018, and set to rise further year on year. Last year, the bank created a cloud-based blockchain enabled trade finance application.
Are there any other new expands that Euro Exim Bank has in mind for the nearest future?
Yes indeed, having the technology and IT resources enables us to focus on moving other aspects of our business into a standardised platform, covering banking activity.
We've completed our trade finance platform build and deployment, with next steps being implementing a banking capability, and creation of a crypto-exchange. We are also examining issuance of cryptocoin for trade, helping corporates in jurisdictions where access to fiat currency remains a key issue in stifling international trade
In your opinion, what are the biggest challenges that businesses have to face in the cross-border arena nowadays?
Simply the following – trust, confidence, identity, ability and intent for companies and individuals to settle, optimum use of cash flow, liquidity, sanctions and domestic vs. international regulations.How does Euro Exim Bank help them in this case?We serve clients in the Far East, Middle East and Africa, and whilst we would always wish to do business where possible, due to risk, compliance and legal restraints this is not always possible.  We have been ably assisted by the deployment of our advanced platform and AI based systems to check identity, records, documents and records, such that we can take an informed view regarding potential client trades in countries and with small businesses where larger institutions may find the effort and cost to service is too high.
You've previously mentioned that there are currently more than 400 regional trade agreements promoting free movement of trade over the world. 
In your opinion, what are the main factors that can cause problems for borderless trade becoming even more popular?
FTAs are a vital part of modern trade, allowing neighbouring and diverse countries to trade effectively under a single regulatory and legal regime, which is especially useful in like-for-like economies such as in the African continent, where costs can be minimised and movement of goods handled at local levels.
The growth of populism, protectionism, nationalism and regionalism continues to cause major disruptions to trade flows, firms and countries. 
We see more specifically designed measures such as tariff barriers, currency restrictions and import quotas, which immediately decrease sales, promote uncertainty and damage export prospects. As an example, the on-going US–China confrontation and war of rhetoric may escalate to strategic conflict, where implementing harsher tariffs (basically taxing all goods at the highest levels) may not only restrict access to goods, but to the provision of essential components to manufacturing industries.   
Is it possible to achieve "the nirvana of fully borderless trade"?
Fully borderless trade would be a dream for exporters and importers alike. However, the non-exhaustive list of current barriers includes complex non-standard regulation and compliance, sanctions, protectionism, volatile commodity markets, disruption from Fintech companies and non-banks, capital and liquidity constraints, legacy technologies, shortage of skilled trade specialists, confidence and trust in particular jurisdictions, and shifts to new trade corridors.With these challenges, and in the current climate of uncertainty – not only with Brexit and growing sanctions, but also with the US–China trade wars – we do not see open, borderless trade in the immediate future.
Let's talk about the future. As you see it, how will the financial industry change in the next five to ten years?
In the 1980s, bank messengers, telex, manual test keys, highlighter pens and manual paper-based processes across the back office were still commonplace. These were phased out as financial technology was applied to basic processes, reconciliation improved with automated matching, the SWIFT network and other communication mediums became more accepted and security improved across systems. You may still recall groundbreaking industry initiatives such as STP (straight through processing), BPR (business process re-engineering), rules and exception processing and so on.
Today, we have automated and digitised many of these functions. But have we gone far enough? Now artificial intelligence (with worldwide spend forecast to reach $35.8 billion in 2019), open banking and machine learning, IDC predicts worldwide spending on cognitive and artificial intelligence systems will reach $77.6 billion in 2022, more than three times the $24 billion forecast for 2018.