European Business Magazine Catches up with Noel Moran CEO of Prepaid Financial Services who started his award winning company from his kitchen in London talks to us about where it all started and more importantly where it is all going. The CEO has not only many awards himself but was the recipient of the very presgious award from our readers – Ceo of the Year Finance and Technology 2018/19. The company's record on diversity and inclusion has also won them a place on the exclusive Financial Times FT Future 100 UK 2018/2019 list.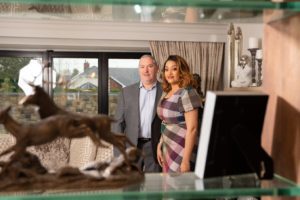 There's this legend going on about how and when you decided to start a company more than 10 years ago, sitting at the white oak kitchen table. Could  you take us to the very begin- ning of Prepaid Financial Services and tell us a bit more about  how it all started?What was the beginning like for you and for the company?
It's not a myth. The reality is that PFS started at the kitchen table in my apartment in Paddington. It was a struggle to get our first deal for 5,000 cards. We certainly had to persevere and today we have issued  over 6 million cards. That initial contract was the foundation from which  a FinTech empire was rapidly built. It was a tough start – I lost my job in the recession and it had been a while since I had received a regular pay cheque. I knew I had the experience to make this work – I just needed a chance to get the enterprise off the ground. Now, we are one of Europe's largest electronic money account issuers and innovation is at the core of the company.
Let's rewind the clock further to find clues to the inner mechanics of a FinTech mastermind. Noel was an early school leaver when at 17 he decided to start his career in traditional banking in his native Ireland. He quickly gained experience with banking and payments leaders in Europe and lived and worked in the UK. In the height of the recession, he had a Financial Technology idea that would save businesses time and money. It still does.Anyone who meets Noel cannot help but observe his vision, drive and energy to rewrite the rules of what is possible to deliver securely in the FinTech and payment ecosystems. This work ethic has won him the prestigious European Entrepreneur of the Year title for the second year in a row. PFS is counting down to Noel's next major goal, an IPO. From the start, Noel has enjoyed the support of his wife Valerie Moran who was employee No.1. Valerie, Head of Operations & Client Relations, recently entered the history books in the UK as the only black female ever to enter The Sunday Times Rich List in the 31-edition history of the publication. Together, they have helped to transform PFS into FinTech's most innovative, diverse and inclusive company.
What were the main tipping points for PFS?
The European Business Awards win was significant on a number of fronts. We never expected to win the national UK award, never mind become the overall Digital Technology champion for 34 countries in Europe. I was in Poland with my good friend and our Commercial Director, Lee Britton, for the two days of live judging rounds. It was hard to imagine that we emerged as victors from 112,000 companies across the continent of Europe.
Adrian Tripp, CEO at the European Business Awards said: "Our winners are the gold standard for business excellence. They are also powerful examples of the growth potential for European business in today's highly competitive global marketplace. They deserve their success and we wish them well." Another tipping point was the successful PFS €1 Million FinTech Innovation Fund, the largest fund of its kind. We are proud to have encouraging and partnered with the next generation of home-grown entrepreneurs. The competition was aired on a series of primetime national television slots. The company was proud to have been a high-profile incubator for new payment technologies. Both of these tipping points earned PFS a heightened amount of press coverage around the world. In recent times, over 3.17 billion people have seen PFS in the news worldwide.
In your opinion, what were the most important milestones that the company has reached during the last 10 years in the industry?
Without question, our greatest milestone has been recording 10 consecutive years of profitability. Considering that we began in the height of the recession, the accomplishment is all the more compelling. Not only that, but to consistently increase revenue over the course of a decade is another standout performance for any company.
Noel spoke to the international press when the company's last set of financials were officially made public: "I belie
ve we are one of the few, if not the only, Fintech companies in Europe that has managed to return profits for 10 consecutive years without taking in any institutional investment. We have grown organically, and our record speaks for itself. We do not have to focus on fundraising, we spend our time focusing on building the business and cutting costs that will in turn benefit our customers. We are now at a point where it makes sense to look at an IPO and take the company to greater heights."
What special projects did you and PFS participate in during this time?
It was a special moment for everyone in PFS when the company delivered on the goal of our campaign that set a target of donating 200,000 school meals to children in Mali in West Africa. The country is very much in the news again at the moment. The heartfelt child-centric campaign involved PFS prepaid Mastercard cardholders and £40,000 was presented to the United Nations World Food Programme (WFP).
Patrick McKenna, Partnerships Manager at the United Nations World Food Programme said: "More children in Mali are now benefitting from access to nutrition and education. Together with PFS and Mastercard, we are helping to end the cycle of hunger and poverty."
You've been in this industry for more than 10 years now. In your opinion, what was the biggest challenge that you had to face during that time? 
FinTech is a highly regulated industry and the Brexit vote created a challenge for us that we have since overcome. Today, we are regulated by the FCA in the UK and the Central Bank of Ireland. This means that whatever scenarios emerge in the UK and Europe, PFS is fully Brexit-ready.
Noel said the following when the announcement was made: "The future looks even brighter now for PFS with this announcement. It ensures that no matter what happens with regards to Brexit, our business is prepared for all scenarios and there will be no impact to our customers and partners. We look forward to enjoying an excellent working relationship with the Central Bank of Ireland in the years to come."
What were the biggest accomplishments?
PFS is now one of only a handful of FinTechs to be double regulated in the UK and Ireland. Receiving a license from the Irish financial Regulator, the Central Bank of Ireland, was a welcome development.The company will continue to work seamlessly after any Brexit scenario.
Another turning point occurred earlier this year when PFS acquired the Barclays physical prepaid card portfolio.
Noel commented on the day of the announcement saying: "We had been in discussion with Barclays regarding their physical prepaid cards and looking at opportunities to work together. In January, we agreed a deal whereby PFS acquired Barclays' portfolio and would work with Barclays to migrate clients off the existing prepaid platform and over to PFS. We are working hard to achieve a seamless migration for clients of Barclays. The deal will enable PFS to offer an enhanced service to existing and future Payroll and Corporate clients. Adding this Corporate and Payroll portfolio to our existing Corporate book further strengthens our position in the market as one of the leading payment providers for Corporate customers."
Deloitte Fast 500 EMEA for the 3rd consecutive year, Sunday Times Hiscox Tech Track 100 for the 5th consecutive year, European Business Awards, Digital Technology Award — the list of the awards that PFS has won over time is more than impressive. Also, last December, European CEO named you the Entrepreneur of the Year in the Payment Solutions Industry category.What does it mean for the company and for its customers?
Just yesterday, PFS achieved a "Triple Double" by winning three awards back to back for the second year in a row. So far in 2019, PFS has won 8 awards including two global and two European titles.The recognition highlights the efforts of all the team in the UK, Ireland and Malta. The feedback we have received from various judging panels is very encouraging for the future trajectory of our agile business.
What does it mean for you personally?
It means we are on track and making an impact in the FinTech universe. Our mission has always been to be a global market leader in delivering the latest innovation and customised payment technology solutions. The vision hasn't changed – to deliver efficient and cost-effective e-money solutions to market. We are one team and promoting teamwork is where we excel with fast project delivery times.
You have a lot of experience in the banking scene with a lot of expertise in Fintech, e-wallets, IBAN accounts. What are the main goals for you as the CEO of Prepaid Financial Services? 
The goal remains the same. To run and continue to grow a successful and profitable company for our clients, cardholders and staff. 11 years into this adventure, I still believe in the power of seeking out and leveraging opportunities, the right opportunities. The world should be asking one question when it comes to FinTechs – how many consecutive years of profitability has a company enjoyed? Businesses like PFS are rare and we never took in outside investment.
What specific aims do you see as the most important ones for the company?
We are counting down to an IPO which is an important goal for the company. We would like to see revenues continue to increase year-on-year as well as our overall processing figures. We are looking to Africa and Asia to expand our regulatory status. We aim to operate in several countries in these continents in the future
The Prepaid market is evolving and changing really quickly. Are there any particular skills that you need more than others while working in the PFS?
Resilience is key. We are shaping the future of FinTech and with this comes challenges. This is not an industry for people who give up too soon. So, courage and strength are valuable traits as well as industry experience.
Let's talk about the future. The prepaid market is booming right now, especially in Europe.How do you see this industry evolving over the next 5, 10 years?
We predict that Contactless & mobile payments will eradicate cards, and likely also cash, in time. FinTech is becoming more and more consumer-centric as customers want incentives and deals to spend and we are always listening to an ever changing market. Biometrics will see a tidal wave adoption as we never leave home without ours!
Currently in Development:
A FinTech product that will be a world-first where we will beat traditional and challenger banks to market.

Even more mobile payment/wearables projects with some of the biggest companies in the world.

A new intelligent app that will surpass anything we have released in the past.