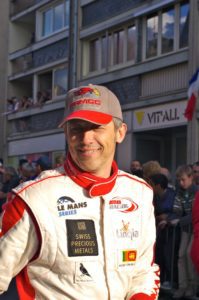 We caught up with Jean-Marc Menahem – a local Barcelona resident for many years now, but originally from France – talks to European Business.Jean-Marc, an amateur driver who is a financier by trade, is unlike many race-driver enthusiasts. He has managed to live out his dream by not only driving in many high octane races such as the V De V Proto Endurance Challenge, but in 2011 he took part in the 24 Hours of Le Mans – the world's oldest active sports car race, which the majority of professional drivers don't have the opportunity to participate in, let alone amateur enthusiasts. We asked the amateur driver about his racing experiences, outside of his already busy life of work, family, racing mountain bikes, playing and relentlessly raising money for charities around the globe.
How long have you been involved in racing? 
It's been 25 years since I first started racing. 
What initially made you get involved in racing – did someone introduce you to the sport, or had it been a lifelong ambition? 
It's not an ambition. It's a child's dream! To participate in the 24 Hours of Le Mans race is THE ultimate goal for any car-racing driver – both professionals and amateurs (together with Formula One, obviously).
I've been car racing for more than 20 years and I've never met one single gentlemen driver (as we call non-professional drivers) who did not have this race in mind. It's like being able to play on Centre Court at Wimbledon for an amateur tennis player! Imagine racing in the biggest race of the world alongside Alonso, Schumacher, Kristensen, Fisichella, Hulkenberg, etc…
What were the biggest challenges to begin with, to get a team together and to actually to get in the first race? Talk us through logistics. 
When you have never raced in Le Mans previously, the biggest challenge I think is to convince a team to give you the opportunity.
When you believe you are ready (you have the budget, you have the experience and you can see with your results/performances that you also have the speed), you quickly need to identify which team is "offering" a gentlemen driver seat. Out of the 55 selected teams for Le Mans, if you exclude professional teams (Toyota, Audi, Signatech Alpine, Rebellion, etc.) and the teams only looking for long-experienced Le Mans gentlemen drivers (almost pro drivers), the list reduces to probably max 5 to 10 teams. This is when you start making calls and trying to activate your network to help you get in touch with the right people and to get introduced. Then you pitch yourself as best you can. Personally, it was after three months of calls and discussions that I was finally called by JMB Racing in February 2011 for a test day in Le Castellet circuit with four other drivers. All candidates for the "one seat" in a GT2 Ferrari car. That test day is really not only about how fast you are, but how you communicate with the engineers, the feedback you give them for the set up and … the most important thing: that you make zero mistakes on the track (i.e. you stay right on the track lap 
after lap). Le Mans is the most difficult endurance race in the world. Teams want drivers that will first and foremost be able to finish the race and bring the car safely onto the finish line! Pure speed really comes second for us in Le Mans.
What has been your most successful race/year and why?
I could say 2011, when I finished third in the European Endurance Championship (driving a CN Norma), but for me it is definitely the Formula Renault 2.0's 2008 season. I raced two years in Formula Renault 2.0. In 2007 in the French Championship, and in 2008 in the Western European Championship (WEC). Because of the economical crisis, the promoters allowed gentlemen drivers (i.e. I was already more than 50 years old) to race with young drivers – all of whom were racing to soon be Formula One drivers – the best young drivers in Europe were there! Some of those that I raced against in 2008 have raced, or still are, in Formula One (Ricciardo, Pic, Bianchi, Vergne, etc.It was fantastic racing at that level. Of course there was no chance we could win, but just to qualify for the race was a challenge. We needed to do no more than 105% of the pole position time during the qualifying session for each race. So max 1.5 seconds slower than the best time/driver on the lap. I qualified for each race of the championship. I was so proud! It was pretty intense but so much fun!!!
It is a long day when racing 24 hours – how much preparation does it take?
As a gentlemen driver, when you have a full-time job, family, etc., you really need to free your agenda as much as you can probably at least six months before the race.
Because it's a once-in-a-lifetime experience, your childhood dream, you just can't do it unprepared. From February until Le Mans I raced or practiced almost every weekend. I hired a fantastic professional driving coach (David Zollinger). I really felt like a pro, travelling from one circuit to another across Europe, flights, hotels, etc. In that sense the preparation was also one hell of an experience.
Physically of course you MUST be fit and lose weight as much as you can (my team manager asked me formally to lose 5kg so as to be below 80kg), so a lot of biking, squash, running, and some specific exercises for the neck, the arms, etc. 
On the day itself, what are the biggest problems the teams face?
We are not involved in the logistics and technical preparation of the race. Teams are structured with a team manager, engineers, mechanics, spare-part managers, etc.
Le Mans is a complex race. The day itself everyone has a very specific role and there is no more time for questions. Timing is key and everyone knows the written agenda of the day, hour by hour. But I would say that, as in any organisation, the biggest challenge is to manage the unexpected, the unforeseen. The car gets back in the box after an accident on the track, the rain changes the strategy of the race, a mechanical problem, etc. This is when you see the talent and the cohesion of your team in action. It is pretty impressive and always makes me proud to be working with these guys. At that moment you feel that you cannot disappoint them when you race. Le Mans has this incredible impact on all of us. This is the day when everyone gives the best of himself. This is the day you were born for if you are into car racing!!
How does it work with regards to drivers and cars? Do you own the cars? Do you pay the drivers for one race, or are they paid throughout the year with a contract?
It's pretty simple. You rent the car. And you rent it with the team that goes with it to the race. Overall, in the landscape of car racing, very few drivers get paid to race. Some talented drivers don't have to pay to race, whereas all gentlemen drivers will pay to race. Le Mans is part of the Endurance World Championship, with races over the season. To prepare for Le Mans you have to participate in at least some of these races. Most of the time, there is a price per race but it can be a package for the season. As for the car, in my case the car (a GT2 430 Ferrari) was already sold by the team to a car collector before the race! A car that has raced in Le Mans (and finished) has great value!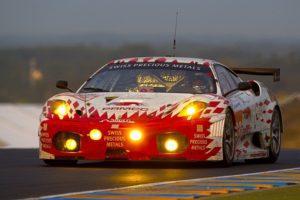 How many team members are needed on the day? Mechanics, drivers, etc?
All together (and excluding official manufacturer teams like Audi, Porsche, Toyota, etc,) a typical team would probably be around 20/25 people including the three drivers for one car. And 30/35 if two cars race for the team.
For any budding entrepreneurs, what advice would you have for Le Mans?I guess everyone has their own way of achieving their ambition. Mine was rather pragmatic. Once I realised it was possible to race in Le Mans, I spent some time establishing a list of what was needed to make it happen. Then I ticked the list off, one by one…
Any aspiring ambitions to race in any other races you haven't as yet?
It's difficult to go higher than Le Mans for a gentlemen driver (and finish it at the first attempt!). This is the ultimate ambition. After that, you can only dream of racing again in Le Mans… but otherwise Indianapolis is definitively on my list! The thing is that you can only race for the 'first time in your life' in Le Mans once… This magical moment – you know you can't live it twice.