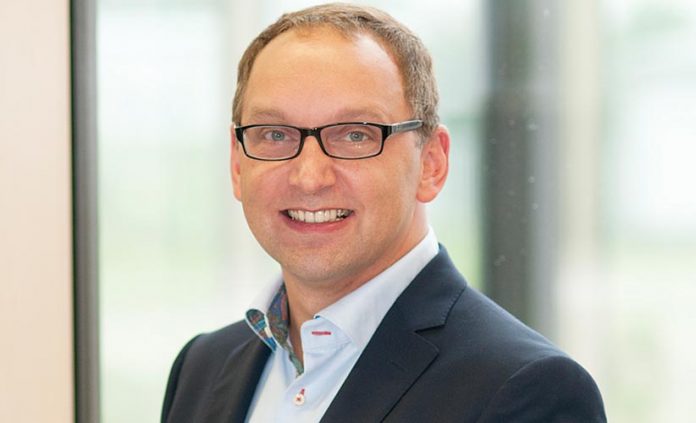 European Business Magazine recently caught with up With Frank Herzog who won prestigous award through our readers for best pioneer in the 3D printing and manufacturing industry 2016.An industry leader with over 15 years of experience , he has developed a pioneering process called  LaserCusing and his innovations and new technologies are helping the way industries are being shaped from aerospace to dental technology. Below are his recent excerpts from his Q and A with following his award.
1 When was Concept Laser founded and when was the company's first industrial laser melting system introduced and supplied?
Concept Laser GmbH was founded in 2000 from very humble beginnings. Back in 2001, at a time when a metal laser melting system was a completely unknown quantity in the market, we were able at the Euromold trade fair in Frankfurt to present the world's first industrial machine for the powder-bed-based laser melting of metals (3D metal printing). The first machines, the M3 linear, were then supplied in 2002.  We have since supplied 650 machines to customers around the world.
2 Can you briefly describe the pioneering "LaserCUSING® process" in layman's terms for our readers, and how does this process allow 3D components to be made?
The patented LaserCUSING® process from Concept Laser is used to create high-precision mechanically and thermally resilient metallic parts without the use of tools. The melting process generates parts layer-by-layer using 3D-CAD data.
In the process, fine metal powder is melted locally by a high-performance fiber laser. The material solidifies after cooling. The contour of the part is created by redirecting the laser beam using a mirror redirection unit (scanner) onto the working plane. The part is built up layer by layer (with a layer thickness of 15–500 μm) by lowering the bottom of the build chamber, applying more powder and then melting again.
4 What does LaserCusing actually offer industry in terms of cost and efficiency?
Compared to conventional manufacturing methods, such as casting or milling, an additive process offers both quantitative and qualitative advantages.
In terms of cost, there is no expenditure on procuring, operating and maintaining tools and molds. In addition, material-conserving production is possible as the resources used are conserved and levels of waste are minimized. The level of waste with milling is around 75% whereas with laser melting it is only around 5%.
But what is also very crucial is the time saving – toolless manufacturing means that the part can be printed out on demand immediately based on CAD 3D data.  The time until the part is available can thus be reduced by up to 75%.
In addition, 3D metal printing offers advantages in relation to freedom of geometry, the potential for lightweight construction, topology optimization, bionics, environmental friendliness and functional integration. Due to the possibilities that exist, many existing products are also being reconfigured and redesigned.
5  How did you come up with such an innovative and pioneering technology?
Metal as a material has always held a fascination for me, not least as a result of my training to become a precision mechanical engineer at the company Siemens. Even during my mechanical engineering degree, I could not shake off my interest in metal processing. So in 1996 I thought to myself that what is possible with plastic sintering technology must also work with metal powder – building up a structure for an end application layer-by-layer using a laser. This idea ultimately also spawned a manually operated test apparatus, one of the first ever attempts at a 3D metal printer.
Initially tensions in the part and metal powder that did not melt completely represented the biggest challenges for me. But with the development of stochastic exposure and the use of a solid laser body which my wife worked with as an ablation laser in mold-making during her dissertation, it was possible to overcome these problems with hard work. With this knowledge my wife Kerstin Herzog and I founded Concept Laser GmbH in 2000 in Lichtenfels.
6 What industries do you think will most likely be affected by this pioneering 3D technology? For example, which industries are already benefiting most from 3D printing?
We started off with typical applications of batch size 1, such as are found in tooling, prototyping and also dental and medical technology. Then came the aerospace industry, which very quickly recognized the stated benefits in terms of cost, time and efficiency and now, alongside medical technology, is the biggest driver of this technology. Parts are already being mass-produced in these sectors today.  With increasing build rates and therefore greater batch sizes, the process has also attracted interest from other industries, such as the automotive industry. What is more, it is always amazing to see the exciting new areas of application which emerge.

7 Finally, what does the future hold for Frank and Concept Laser? What can we look out for?
3D metal printing is still a fledgling technology with enormous market potential which offers possibilities that will significantly change, if not revolutionize, today's manufacturing. We at Concept Laser are all proud to be a crucial part of this story, and we will rise to meet the challenges that lie ahead with our enthusiasm and our great inventiveness. In terms of technology, in future there will undoubtedly be a demand for machine concepts that allow economical series production of metallic parts. This means that current stand-alone machine concepts which were previously designed for prototyping and the production of small batches will not be able to satisfy this demand. Future solutions will demand increased networking and digitization of processes, as well as a much greater level of automation. The buzzword in this connection is "Industrie 4.0". Our concept of the "AM Factory of Tomorrow" reflects these requirements precisely and underscores our role as a pioneer and leading innovator.  But from a business perspective, the rapid pace of growth is also throwing up plenty of new challenges which require constant adaptation of the processes within the company and solid, proactive planning and a high degree of leadership.
In spite of all these challenges and the associated responsibility, I could not imagine a better professional role in life.