Ranked as Germany's number one city for foreign direct investment, Düsseldorf is an international business hub in the heart of Europe. Thanks to its high quality of life and moderate living costs, Düsseldorf has become a magnet for international companies. The city's central location on the European continent as well as its excellent transportation infrastructure and international airport, means that many European destinations are within easy reach. The city government is decidedly pro-business and actively promotes entrepreneurship. This combined with a safe living environment, tolerance, open- mindedness and the famous Rhineland hospitality, means that the Düsseldorf region is now the second-most popular destination for foreign direct investment in Europe … behind only London, but ahead of Paris.
Düsseldorf: World class living and working
Düsseldorf is an attractive, cosmopolitan and growing city, with foreigners accounting for about 17% of the city's population. As the state capital of North Rhine-Westphalia, Düsseldorf enjoys an excellent reputation among expats as a great place for their families but also for their career. The well-respected Annual Quality of Living Survey from the Mercer consulting group ranks Düsseldorf sixth among all cities in the world. The leading Internet portal for expats, InterNations, also recently compared more than 60 countries and 35 cities in their 2016 Expat Insider Survey. The not-so- surprising result: Düsseldorf ranked fourth in the world in terms of quality of life, work-life balance, ease of settling in, cost of living, and family life. And Düsseldorf was the number one destination for expats among all German cites.
Düsseldorf Airport – Gateway to the World
Düsseldorf Airport (DUS) is Germany's third-largest airport and is conveniently located very close to the city centre. With 65 airlines that service 187 destinations worldwide, DUS is an efficient hub for both people and goods travelling between Germany and the rest of the world. More than 22 million passengers, 21,000 flights and 90,000 tonnes of cargo pass through the airport annually. It's a busy airport with twice daily connections to the most important European destinations and more than 130 intercontinental flights per week. But despite all of this activity, the airport is located in close proximity to the city centre … about 10 minutes by car and 13 minutes by train. Düsseldorf is the "be there in ten minutes" city.
156 million Consumers within 500 Kilometres
Düsseldorf is the ideal base for business within continental Europe. About 31% of the European Union's total population lives within a 500 kilometre (300 mile) radius of Düsseldorf – a distance that a truck can easily cover in a day. About 50% of the total EU purchasing power is generated here – making Düsseldorf the perfect launch pad for entry into European markets. A total of 11.4 million people live within one hour's travel distance by car and more than 500,000 companies are based here. No where else in Germany is there such a high density of providers and users, customers and business partners.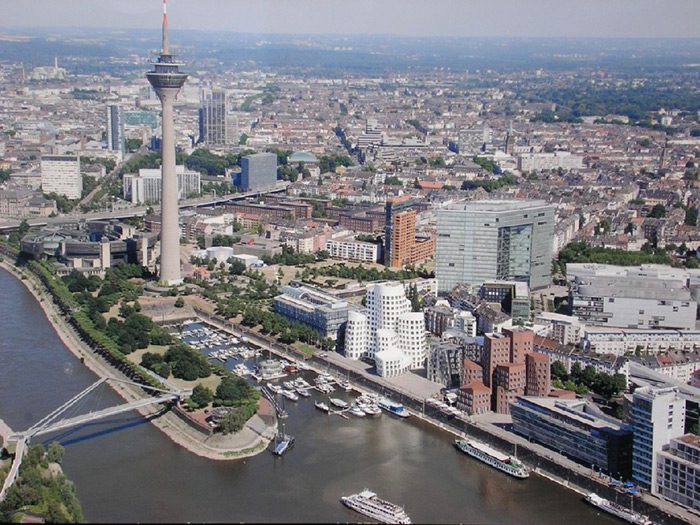 Digital transformation is happening here
Düsseldorf has become a hotspot for Europe's digital economy, thanks to the city's unique cluster of mobile communication firms, start-ups and industrial manufacturing companies. The digital transformation is already a reality today in Düsseldorf, a highly innovative and international business location. Companies based in Düsseldorf are the driving force behind digitalization. Unique synergies facilitating sustainable digital transformation are being created in Düsseldorf.
Start-up Ecosystem
There are currently around 250 start-up companies in Düsseldorf, forming an important foundation for the innovative strength of the economy in and around the state capital of North Rhine-Westphalia. As part of Düsseldorf's initiative for start-ups and entrepreneurship, a long-term strategy and several projects were defined by the start-up business community. The overall goal of the initiative is to create a positive and pro- business environment for entrepreneurship and start-up companies in Düsseldorf.
Talent pool of Digital Trendsetters
Düsseldorf offers a deep pool of qualified employees with a high level of experience in technology, industry and services. The city has more than 42,000 digital trendsetters, forming a huge network of expert employees with knowledge of network technologies. And for the talent of tomorrow, Düsseldorf offers world class education in IT, engineering and design. There are a total of 37 private universities, 12 Max Planck Institutes, 35 public universities located in and around Düsseldorf.
Digital transformation hub
Düsseldorf is the city where innovative start-ups can meet established corporations and where providers meet users. Companies locating here become part of a strong network of digital companies and traditional corporations. Düsseldorf-based enterprises are excellently equipped for the digital future. The city sits at the centre of the digital transformation and the digital innovation hub. More than 40 companies and other organizations are participating in the digital hub. There is a strong cooperation between small and medium sized enterprises, start-ups, universities and industry.
Focus on your success
Düsseldorf has a thriving international business community, with one in every seven companies having an international background. The city of Düsseldorf Office of Economic Development is the central point of contact for international companies, providing comprehensive advice and support to establish a company but also advice during every phase of development. Information is offered in 10 languages, and consulting services are offered in English, French, Japanese, Chinese and Russian. The services offered by the Office of Economic Development include:  Information on establishing a company  Establishing contacts to local service providers, such as lawyers and tax consultants  Help finding commercial real estate  Advice and support for visas and permits  Support during entire set-up process and also settling in  Linking up to business networks