Technology has the power to transform how businesses function and thrive. It has also emerged as a vital tool in the long-standing global sustainability initiative as companies seek to reduce carbon emissions, waste output, and impact on ecosystems while reducing costs.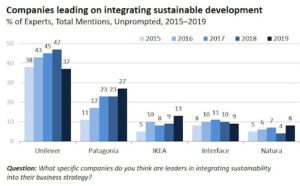 Technology can help businesses reach sustainability goals. There are a variety of ways that technology can help companies, like solar energy and electric cars which we already know work. But other technologies like cobalt recycling which can be used to power bigger devices like the Galaxy Z fold or autonomous vehicles seem far more futuristic than they actually are. These being mentioned as examples of how businesses can use technology to reach sustainability goals could lead to many new inventions in the future. 
The business world has changed drastically over the past few decades due to technological advances in areas like robotics, artificial intelligence, nanotechnology and virtual reality. One of the main areas that have changed is the way that people interact with each other. Through technological innovations, these businesses have also been able to create many new processes that help them manage and/or automate their operations.
There are a variety of ways in which technology has helped to make it easier for companies to expand both globally and domestically; some of the influential sectors are high tech, pharma and biotech. 
Cleaner energy
Implementing new technology in any field can be disastrous without proper implementation strategies. Therefore, it is vital for businesses to first analyse all the potential risks concerning their target audience and clarify how they plan to prevent possible errors or losses. This will provide enough time for business managers to create a smooth transition within the organisation, which will have significant implications on operational efficiency and customer satisfaction levels.
Regarding sustainability, several measures can put a company on the right path. For businesses seeking to reduce adverse environmental effects on our planet, the most effective way is to use renewable energy. Research shows that 70% of businesses have set goals for using clean energy. Adopting innovative technologies such as solar and wind power has also been proven effective for businesses to save money and significantly reduce their carbon footprint. Carbon-negative solutions have made record progress in Europe due to such solutions becoming more affordable now than ever before.
Businesses can significantly lower their carbon footprint by using clean energy as their primary source of electricity and other forms of power. Fuel cells are also growing because they allow for better integration between traditional business models and newer sustainable solutions.
Lowering costs
When it comes to lowering costs in the supply chain, businesses are now embracing on-site renewable energy solutions. This translates into a lower carbon footprint because of timely power generation during peak times and fewer emissions from the use of diesel. When harvesting more energy within supply chains, businesses should consider implementing innovative technologies such as smart metres. These metres allow businesses to access information about how every department deals with its energy consumption or carbon footprint. Several benefits can come from using smart metres, one of which is that companies can adjust energy consumption for each building and adjust on time according to demand. This can undoubtedly yield considerable results in the long run.
As technology continues to grow and evolve, one of the most important things businesses must keep in mind is to use the right tool for the job. Technology should help your business become efficient and profitable while leading a more sustainable lifestyle. To become successful, businesses need to find the balance between optimising their output, productivity and resources to produce more with less input.
Sustainability has become a significant topic in the business sector due to its importance when it comes to environmental protection and various sustainability-based initiatives. Even so, a number of companies are still struggling to embrace new technologies in their operations. Even though a lot of research is dedicated to adopting sustainable business models, many companies still lag behind in creating sustainability strategies and ensuring a healthy corporate environment.
Undoubtedly, technology has already played an important role in achieving sustainability goals. However, in order to reach sustainability targets and improve corporate management, businesses should implement tools and technologies that can help them make the right decisions at the right time.
Sustainability should be a major priority in all large-scale or small-scale businesses. However, according to research, many companies still need to update or adopt innovative technologies to become fully sustainable.