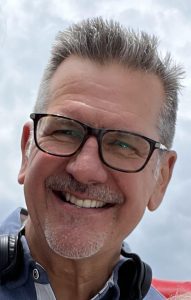 European Business Magazine caught up with CHWMEG to discuss the latest Supply Chain Due Diligence Directive , and how they intend to collaborate with European businesses by ensuring their waste management practices align with responsible waste stewardship as well as other sustainable practices they promote within the organisation. The interview involved Jeff Sacre who is Executive Director of CHWMEG (pcitured)  , Randy Mott (Director, Europe, Africa & Middle East) and Suzanne Curry (Director Marketing and Member Support).
Q1: Can you explain the concept of responsible waste stewardship and how CHWMEG promotes it to European businesses?
The concept of sustainability requires manufacturers and other organisations to recognize the adverse consequences of the wastes associated with their operations – including aspects of their supply chain – and not to transfer the cumulative adverse impacts to the society. Those aspects include environmental impacts, human rights issues (including, but not limited to employee health and safety, public health of the surrounding community), business practices, and conduct (including anti-corruption efforts).
The responsibility for wastes and by-products resulting from manufacturing and business operations does not end when waste is transferred to a transporter or processor, nor when the waste leaves the waste producer's property (the origin of its generation). This waste generator/producer liability extends to third-party sites, including waste and spent materials processors and recyclers/regenerators.
Waste processors can include facilities that provide treatment and disposal services, such as incinerators, waste-to-energy (WTE) facilities, commercial wastewater treatment plants, and landfills, to name just a few.
Recycling facilities include but are not limited to those handling batteries, plastics, electronics/computers/mobile phones (WEE), and other "focus materials."
Examples of regeneration activities can include spent catalysts from oil and chemical refining processes, specialized pharmaceutical manufacturing operations, and spent solvent recycling. Many regeneration activities are the result of industry moving towards more circularity in the production process. Circular economy arrangements can still carry responsibility for the original producer of the spent materials used to augment or replace the use of raw materials until the regulatory scheme specifically establishes the "end of the waste."
The concept of "generator liability" does not depend upon intent – only on the outcome (improperly managed wastes, or unintended contamination resulting from ineffective processes). Since 2008 (after the first revision to the EU Waste Framework Directive and landmark cases arising in Europe that pointed liability back to the original waste producer), European firms have had a duty of reasonable care in the management of their waste and the selection of their vendors. Several European countries have historically had strict liability laws, and this trend has grown significantly. Recycling of materials generally does not exempt by-products or spent materials from these liability schemes in Europe and elsewhere.
CHWMEG, Inc. (CHWMEG) is a non-profit organisation that promotes responsible stewardship of initially produced wastes and other spent materials (comprehensively, "wastes" for this discussion). CHWMEG's membership comprises more than 300 major manufacturers and other organisations, representing over 900 separate entities. Sectors represented by CHWMEG members include oil & gas, energy production and distribution, chemicals, pharmaceutical manufacturing, metals extraction and processing, semiconductors and electronics equipment manufacturers, and communications service providers, to name just a few.
Waste stewardship: CHWMEG's mission is to facilitate general awareness of the potential environmental and human rights impacts that can result from improper or irresponsible practices associated with waste or recycling management. Recognizing the importance of human rights aspects (employee health and safety practices, and
protection of public health), air and water pollution, contamination of groundwater (environmental aspects) and other risks associated with internal operations and downstream suppliers (the waste and recycling facilities) provide the motivation for CHWMEG's efforts: to promote responsible waste stewardship for the general public and for its members.
In support of its members' own individual stewardship initiatives, CHWMEG conducts comprehensive risk reviews of waste and recycling facilities worldwide. CHWMEG's members benefit greatly because of the cost-saving opportunity afforded by the "shared-cost" model utilized for conducting detailed risk reviews. CHWMEG's reviews augment the efforts of member organisations in Europe that are currently conducting value chain audits worldwide as part of their sustainability programs. CHWMEG's facility review reports will be a valuable asset to those organisations that have yet to create such global programs.
Facilities indirectly benefit from CHWMEG's reviews because its support of a single CHWMEG review results in a CHWMEG report that is available to all members that represent the facility's customer or potential customer base. This support allows the facility to conserve its resources at a time when "facility visits" are predicted to increase exponentially. CHWMEG confidentially and anonymously distributes its facility review reports to interested members thereby reducing the burden on the reviewed waste facility.
The context of sustainability and waste stewardship is important to understand considering the recently introduced EU Sustainability and Corporate (Supply Chain) Due Diligence (SCDD) Directive, which establishes a mandatory requirement for larger organisations (by employee count or annual financial turnover) operating in the EU to audit their suppliers to assess and prioritise their perceived risks. The scope of the auditing requirements on applicable (for this discussion, "covered") organisations is global (it is not limited to their European operations, as some incorrectly assume). The affected suppliers include "waste facilities." One of the SCDD Directive's intentions is to identify and prospectively encourage improvements in the value chain (suppliers of the covered organisations). This is projected to include proactive financial support to assist in addressing human rights and environmental management deficiencies at their suppliers. Another intention is to hold covered organisations liable to remedy human rights and environmental impacts caused by their suppliers.
The cascading effect of the SCDD Directive on suppliers of the covered organisations will be considerable. Covered companies will be pushed to try to obtain contractual commitments from their own suppliers linking the Directive's obligations. The SCDD is intended to encourage the selection and use of the best possible (lowest risk) suppliers proximate to the covered organisation's (enterprise-wide) factories and plants worldwide. Annual reporting of the covered organisation's worldwide supplier network will be required, including assessment of risk and prioritisation of the environmental and human rights risk aspects related to each. Where the number of suppliers is limited and the use of less-than-ideal suppliers is necessary, the covered organisation will be required to prioritise the risks of its value chain supplier base, identify potential preventive actions for improving the performance of its suppliers (reducing their risks), and offer financial support to accomplish the same.
With the recent European developments in mind, it is necessary to understand CHWMEG's history and significant position in this area. Through the "Superfund" legislation (Comprehensive Environmental Response, Compensation, and Liability Act: CERCLA) in the United States in 1980, waste generators (waste producers) became strictly liable for contamination related to their produced wastes (even retroactively). Importantly, the US requirements do *not* include mandatory auditing of the supply chain of waste facilities. Instead, the result instituted a "buyer beware" concept – generators were deemed liable for remediation/clean-up of third-party sites that received the generators' (their customers') wastes.
Costs to affected companies as proclaimed by US EPA CERCLA/Superfund program reporting exceeds US$70 billion (funds extracted from customers of affected US facilities exclusive of costs of US state-directed and voluntary remediation, as well as third-party damage cases). The impact of the US legislation was considerable and even bankrupted some organisations. The response by US companies was the advent of risk auditing of waste facilities,which evolved into widely adopted best management practice (BMP) by world-class organisations operating in the US.
Adoption of the ISO 14001 Environmental Management Systems (EMS) standards in the 1990s quickly became popular in Europe, the States, and Asia. ISO 14001 is a global standard that recognises what a formal environment system does for an organisation. The importance of the process looks to ensure that an entity's environmental internal aspects and impacts have been considered and more importantly, are in place, via laws and regulations, while connecting that to an organisation's real-time activities.
Each nation utilising the ISO 14001 EMS standards has established their accreditation body for auditors tasked with verifying the formation of programs. Under the EU SCDD Directive, Member States will designate an agency responsible for enforcement, where EU states will be bound by EU laws and regulations; countries outside of the jurisdiction, for example supply chains in Bolivia or Chad, will pose wider complications and issues.
Any certified program worth its weight will have addressed external aspects and impacts, in the form of regenerating waste and the logistics around which vendor is selected, and how the process is managed and monitored. For conforming US organisations representing global enterprises, embracing ISO 14001 expanded the practice of auditing their waste facility activities outside of the US and North America. Thus, these organisations began scrutinizing waste facility suppliers across the globe. CHWMEG was founded by several of these organisations to augment their own program efforts where streamlining/cost-sharing opportunities presented themselves.
The ISO 14001 EMS standard includes the external environmental aspects and impacts (that is, the potential environmental impacts of the contractors and vendors with which the conforming company does business), but it does not require auditing of waste and recycling vendors. There is a presumption around ISO 14001 that selection and ongoing monitoring/re-approval of waste and recycling vendors includes stewardship and environmental protection objectives; however, "lowest cost" outlets for waste and spent materials can still be acceptable if the organization's criteria for selection are set low. The EU SCDD Directive presumes that vendors will be selected and monitored with more of an emphasis on stewardship and not solely based on financial considerations, including disposal and recycling costs. Third-party, on site audits of the vendors – not required under ISO 14001 but now included in the EU SCDD Directive – will be required, not only for monitoring purposes and the fact it's the right thing to do, but also to contribute proactively to the financial improvement of each of those suppliers' programs to reduce their perceived risks.
The wider impacts of the vendor's programs and supply chains on human rights and the environment is another crucial area to monitor and affect positive change. ISO 14001 is entirely silent on employee health and safety (and other human rights aspects), whereas the EU SCDD Directive brings those issues to the front-and-center.
CHWMEG's history and nearly forty years of experience conducting voluntary risk audits of waste facility suppliers worldwide dovetail with the EU SCDD Directive's mandatory waste facility supplier risk management requirements. These audits identify and investigate the key criteria and issues that have been identified in the SCDD Directive (and other significant factors not mentioned in the Directive).
Operationally, CHWMEG does not approve nor disapprove of facilities, nor does CHWMEG certify or recommend facilities. Both of such approaches would be simplistic and ill advised because of the complexity of the issues. The EU SCDD Directive mandates a risk-based approach that precludes any bright line pass/fail tests.
Rather, CHWMEG gathers and reports sizeable amounts of information, assembles critical documentation, and conveys the resulting reports to interested member organizations for their review and informed decision-making. This affords CHWMEG members the ability to independently evaluate reviewed facilities while respecting the EU's (and other national) antitrust laws.
CHWMEG's approach recognizes that risk levels and tolerances to risk vary amongst facility customers, including CHWMEG's members. Customer risk profiles and needs differ considerably. As an illustration of this concept, those organizations that produce larger volumes of waste, or those generating wastes and spent materials that require more specialized treatment and disposal technologies (higher toxicity or persistence in the environment), will consider the same vendor very differently than those with more routine production streams, volumes, and processing needs.
Q2: What specific initiatives or strategies does CHWMEG employ to help businesses stay on track towards creating a sustainable future?
CHWMEG has developed a highly evolved process for gathering and reporting comprehensive information about waste treatment and disposal and spent material recycling facilities. The process includes a detailed questionnaire that addresses all aspects of risk associated with facility operations including factors linked to human rights/employee safety and hazards and environmental aspects. The extremely detailed resulting report covers the facts that members need to evaluate – in many cases, based upon their own individual (or collective!) unfortunate previous experiences ("lessons learned" about their own supplier shortcomings).
CHWMEG produces these facility reports based on actual site visits performed by its highly experienced and qualified facility review contractors. Many of the individuals conducting CHWMEG's facility reviews have visited over 300 (or more!) separate facilities, and many have conducted reviews in dozens of nations. Every CHWMEG facility review report is the result of research, interface with regulatory agencies, interface with the reviewed facility prior to the site visit, and observations from the time that the facility review contractor spends on-site. Extensive documentation and excerpts from existing written materials and website references are also included in the reports.
CHWMEG reports are confidentially and anonymously distributed to members (no member knows the involvement of other members) so that members can make their own informed decisions based on their own needs and evaluation processes. With the documentation of the risks and attributes of the reviewed facility, CHWMEG's members can make informed decisions about their initial use of a facility or continuing to do business with facilities. It is imperative to realize that the dynamics of the marketplace and of the legal/regulatory/political landscape do not allow one-time considerations/approvals – facility conformance with a covered organisation's risk criteria can change over time.
Recognizing these dynamics, CHWMEG annually considers its own processes, protocol, and questionnaire. CHWMEG makes revisions reflecting the changing regulatory landscape and addresses other emerging issues (e.g., sustainability, emerging contaminants of concern, waste processing technology developments/improvements, etc.) as requested by members. Additional sources of adopted protocol revisions include CHWMEG's facility review contractors and the reviewed facilities themselves.
The list of facilities reviewed by CHWMEG each year is determined by its members. CHWMEG canvasses members annually (July-October for the following calendar year) to identify where cost-savings opportunities exist with multiple member interests (with as few as two of the more than 300 member organisations (https://chwmeg.org/member-list1.asp). Where no common interest amongst the members exists (no cost sharing appears evident), any member can individually initiate a CHWMEG facility review. Sole-sponsored CHWMEG reports are available to any other interested member (as a current customer, or a potential customer of the reviewed facility). All CHWMEG reports are available for the balance of the calendar year, plus four additional years (if that information is deemed to be "current enough" to the needs of the affected member).
Through 2023 (at current count), CHWMEG will have conducted well over 6,300 reviews at over 2,200 (https://chwmeg.org/all-audits.asp) unique facilities worldwide. This includes:
307 reviews of 216 unique facilities in Europe (view them HERE – https://chwmeg.org/results_europe.asp)
5,645 reviews of 1,963 unique facilities in North America (view them HERE – https://chwmeg.org/results_na.asp)
261 reviews of 192 unique facilities in Asia (view them HERE – https://chwmeg.org/results_asia.asp)
85 reviews of 64 unique facilities in Latin America (view them HERE – https://chwmeg.org/results_sa.asp)
56 reviews of 35 unique facilities in Oceania (Australia + New Zealand) (view them HERE – https://chwmeg.org/results_australia.asp)
15 reviews of 11 unique facilities in Africa (view them HERE – https://chwmeg.org/results_africa.asp)
Whether an organisation requires assistance with waste streams, recycled streams, or regenerated streams will vary depending on its needs. Each entity would then consider a facility with the services and processes to take the materials. The locality of where the waste is generated and where the facilities are located is another factor companies will consider when looking at facilities in the region. Many companies will look at cost in terms of consolidating wastes to fewer vendors (where the opportunity presents itself) and the need for using multiple facilities in one locale where the requirements for specialized services are evident. A waste producer's liability will be spread across the number of facilities receiving their wastes for aggregation, and the facilities to which the aggregated wastes are sent for actual processing, rather than just to one facility (the initial receiving facility). Business decisions for selecting and approving these important vendors are made with the involvement of an organisation's supply chain representatives, environmental professionals, and those having health and safety expertise.
Unique policies can also play into business decisions. For example, minimising landfilling or reducing a toxic waste stream and using an incinerator to destroy potentially harmful constituent chemicals are understandable and justifiable initiatives. These considerations depend on an organisation's policies or level of risk tolerance. Less developed countries can create challenges because of less developed infrastructure and fewer alternatives. Impacts on human rights issues, whether to the facility's own employees, neighbouring residential populations, or nearby communities, or environmental impacts (whether intentional or unintentional), can contribute to public health risks and liabilities, and potentially create negative public relations challenges (even if only unwarranted negative perceptions).
Q3: How does CHWMEG collaborate with European businesses to ensure their waste management practices align with responsible waste stewardship principles?
CHWMEG's members collaborate to revise the questionnaire, which serves as CHWMEG's primary information-gathering instrument. The protocol, questionnaire, and report format/layout have evolved significantly over the past three-plus decades of CHWMEG's existence. Changes frequently occur with each annual process review.
The scope of CHWMEG's facility reviews provides an enormous amount of information in a standardized format with extensive documentation that allows members to efficiently evaluate the facility based on their own risk management process and to consider other aspects that may not be initially considered in the individual decision-making process.
As of 19 June 2023, CHWMEG has a library of recently completed reports representing 1,031 unique facilities worldwide (reviewed since 1 January 2019) that current and newly joining members can obtain. The library allows new members to jump-start their program in parts of the world where their facility risk information may be wanting.
Each year, our members anonymously identify the facilities for which they have an interest in receiving a CHWMEG facility review report to be completed in the following calendar year. Our contractors conduct the reviews and CHWMEG produces the facility review reports that members may obtain (at a fraction of the cost required to conduct and produce the report). Canvassing of member interest is conducted annually between July and October. CHWMEG maintains an active library of reports for the current program year and including those completed in the four previous calendar years. Members can obtain reports from this timeframe and access that information to inform their decisions. Member enquiries are kept confidential, so no members will know which reports (especially which reviewed facilities) other members have accessed and requested.
If for example, a European company didn't have a global waste vendor program, and certain directives were in play, as a member of CHWMEG, they could browse the recently completed reports from the 1000+ facilities and obtain the detailed CHWMEG report to support their business efforts. A large organisation would have hundreds of waste vendors (and potentially thousands worldwide) that would now be included in mandatory supply chain risk review requirements.
CHWMEG additionally provides regulatory updates and timely information on important environmental health and safety (EH&S) information in regular webinars and in-person meetings. The meetings are of great benefit to continuing education and the continuing dynamics of global regulatory changes occurring now at a breakneck pace and are open to members and other like-minded organizations.
Depending on each facility and its locale, laws and regulations can change and obvious questions around corruption are ever-changing within the landscape. CHWMEG recognises that corruption can be part of the system, owing to the sheer size of the operation and number of variables present in one facility, let alone across a region or country. For example, CHWMEG has witnessed facilities that turn off their air emissions control equipment at night so people can't see the plume of smoke coming out of their smokestack, or operate their waste processing activities only in the dark hours of the night for this same reason. Inventory at some facilities has been found to be overflowing with waste, where no money has been spent on processing the waste received (with payments received by the facility upon receipt of their customers' waste shipments). This can be a leading indicator that a facility might experience financial distress that could result in bankruptcy. The economic and legal factors fluctuate, along with political pressure of, for example, newly developed towns and villages encroaching upon the facilities that have operated at that location for a much longer time. Those facilities may have been sited and built, licensed, and have operated far away from any communities and residential developments until only recently. Political pressures can prevent the extension or renewal of a facility's operating permit ("license to do business"), meaning that the facility may be forced to close or need to relocate. 
Q4: Can you provide examples of successful partnerships or case studies where CHWMEG has assisted businesses in improving their waste management processes?
CHWMEG's reviews identify the applicable laws and regulations affecting the reviewed facility, including the facility's current permits (and expiration dates) and its compliance history. Recently, CHWMEG reviews uncovered facilities that were accepting customer wastes that were outside the scope of the facilities' permit conditions. These situations were particularly important to member recipients of the report. CHWMEG's reviews have also identified facilities that incorrectly claim exemption from regulatory requirements. These are just a few examples of the significant legal issues revealed at reviewed facilities.
Legal compliance alone is an insufficient measure of sustainability objectives. CHWMEG's facility review reports do not merely focus on legal compliance. CHWMEG reports include a number of other important factors related to the facility's risk profile that reflect the "best management practices" (BMP) that are generally incorporated into members' waste facility evaluation programs.
Environmental risks associated with wastes processed at the reviewed facility can include previously known or potential impacts to nearby inhabitants (factors include population densities, distances, and susceptible populations) in the vicinity of the facility. Importantly, these (by cardinal direction) also can include key "compounding factors" (including prevailing wind directions, for example). Similarly, CHWMEG reports incorporate distances, directions, and uses of nearby surface water bodies and any existing contamination or potential impacts to these water bodies and their users (e.g., drinking water sources, recreational and agricultural uses). Following the same approach, CHWMEG reports consider underlying groundwater resources, any known contamination, affected users, and the potential for affecting groundwater and its users (e.g., drinking water sources and agricultural uses). The potential impacts to nearby populations, surface water bodies, and groundwater require knowledge of the reviewed facility's annual throughputs, the toxicity and persistence in the environment of its worst-case constituents from waste streams accepted, engineering controls in place to minimise migration off-site and the distance to these receptor populations. And in each of these cases, CHWMEG's reports provide information to assist in evaluating how the facility's current situation may contribute to existing impacts from other sources.
Other important risks include those of explosions and fires and, where applicable, the facility's plans for compliance with the Seveso II Directive. Other nearby activities in the vicinity of the reviewed facility are also addressed in the context of highlighting impacts that may pose significant risks to the community.
For example, CHWMEG provides a more comprehensive risk analysis. We look at waste inventories, for example, to assess the time necessary for the reviewed facility to process the waste on-site: major backlogs are a noteworthy indicator of a supplier that may be headed toward premature closure, leaving waste that customers may have to re-address. Additionally, the waste producer could face damages related to environmental impairment, and possible civil liability, coupled with negative public relations impacts. Furthermore, the reports examine facility design and operating procedures that may portend future problems. Other human rights factors, such as employee health and safety, forced labour/child labour issues, injuries and illnesses of the workforce (where reported), and community relations all combine to contribute to the facility's overall risk profile. Finally, the reviewed facility's risk profile can include aspects of transferring received wastes to other off-site/third-party facilities (see commentary about brokers/aggregators).
As a continuing process and outcomes validation, CHWMEG has periodically conducted retrospective reviews of facilities that have encountered financial distress (or even bankruptcy) and that have experienced significant events (unplanned releases, fires, and explosions, to name just a few). By looking at these events in the context of CHWMEG facility reviews conducted in the time leading up to those events, CHWMEG has confirmed that its processes are extremely helpful in alerting members to risks associated with the use of a facility. The prior reports produced by 
CHWMEG on the problematic facilities gave the member recipients of those reports the information that would have alerted them to the potential for those problems – before they affected the facility's employees, nearby communities, impacted precious environmental resources, or before the matter/situation became a newsworthy item that could cast a negative light on the covered organization's value chain selection, monitoring, and risk management process.
CHWMEG reports are *not* predictive in nature. It is important to note that the CHWMEG reports do not indicate that the event *will* occur. CHWMEG reports are unbelievably valuable in highlighting the challenges that these facility face.
Q5: What are some key challenges you've encountered in promoting responsible waste stewardship to European businesses, and how has CHWMEG addressed them?
The key challenge is that many European businesses believe that waste liability ends when the waste-producing organization transfers its waste to a third party. Laws in Europe have contradicted this attitude for a number of years; however, the erroneous perspective persists.
European waste-producing organizations are more likely to use waste brokers or "aggregators." The European firm's selection of one broker (or a minimal number of brokers) to manage (treatment, disposal, or recycling/regeneration) all of the waste-producing organization's waste streams is common and can be tremendously problematic. Frequently, the broker or aggregator simply sends their customers' waste streams to multiple third parties, often without the knowledge of the customer (compounding the problem of the erroneous perspective of "that's not my problem any longer").
The resulting cost considerations operate to disincentivize the selection of alternative, lower-risk waste facilities. In fact, the broker/aggregator is motivated by its own profit margin, which can work in direct opposition to the intended "best stewardship intentions" of its customer – the waste-producing organization.
European waste-producing organizations cannot effectively perform worldwide due diligence if the whereabouts of their waste are not clearly known. Studies by the European Commission indicate that in the absence of an EU-wide waste manifest system, a substantial percentage of the hazardous waste produced in Europe cannot effectively be traced to its ultimate disposition.
Until now, waste-producing organizations have erroneously relied on waste brokers/aggregators to responsibly manage their customers' wastes without the control or knowledge of the actual processing/disposal facilities. An important experience significantly impacting CHWMEG members occurs whenever reports indicate that the CHWMEG member organization's wastes are never actually processed at the facility that was reviewed – or worse yet, their wastes were never actually received at the facility that CHWMEG reviewed (unbeknownst to the generating organization!).
This is an existing problem that will be amplified when due diligence is required of SCDD Directive-covered waste-producing organizations.
Q6: What are your thoughts on the Sustainability and Corporate (Supply Chain) Due Diligence Directive (SCDDD) and its potential impact on promoting responsible waste stewardship in the European business landscape?
While many European companies have implemented their own sustainability programs, some include established and effective waste facility risk management programs. The European Commission indicates that a majority *have not* developed such programs.
The Commission's survey responses indicate that an overwhelming majority of European companies are nevertheless becoming more concerned about the downstream risks posed to human health/human rights and environmental concerns.
The new EU SCDD Directive will require periodic audits by independent experts – which is CHWMEG's primary offering and experience. Waste facility audits – like the facility review reports offered by CHWMEG, in addition to continuous monitoring of previously considered and approved waste facilities – will be required as part of a comprehensive risk management program.
Conforming programs must adopt formal written procedures and annually report the status of the risk program and the actions taken to address the identified risks. This approach is rendered more difficult because it would be unrealistic for any uniform "pass or fail" certification process.
Q7: In your opinion, what role should governmental regulations play in encouraging businesses to prioritize responsible waste stewardship, and how can CHWMEG contribute to shaping effective policies in this area?
CHWMEG is a non-profit membership organization and intentionally does not take an advocacy role in the creation or development of legislation anywhere. CHWMEG does, however, recognize that evolving requirements will fundamentally change expectations regarding sustainability, stewardship, and the need for due diligence by waste-producing organizations.
CHWMEG can lead by example and will continue working with various EU institutions to dialogue on lessons learned from performing due diligence reviews of waste facilities with over 6,500 audits in 55 countries, including 330 reviews in 2023. CHWMEG also looks forward to the opportunity to discuss experiences with the European officials who will be creating the guidance document that will be produced under the new Directive.
Through 2023, CHWMEG will have completed over 6,300 reviews at over 2,200 unique facilities worldwide. The CHWMEG 2023 Facility Review Program (FRP) currently includes 333 facility reviews across the globe.
Members may add more facility reviews to the CHWMEG 2023 FRP, thus increasing the total number of reviews performed and possibly increasing the count of unique facilities reviewed.
Through 2023, CHWMEG will have completed over 307 reviews of 216 unique facilities in Europe.