Vibrant coloured houses, seamless white beaches, and fresh seafood make Barbados a must-see destination.
An 8-hour 25-minute flight direct from London to Barbados, this Caribbean Island is popularly frequented by English, American and Canadian travellers alike. With its recent celebration becoming a republic from England (and thereafter declaring Rihanna a national hero), Barbados remains a popular location for travellers who not only visit but purchase second homes or even re-locate. A slower paced life, warm weather, access to almost any beach, and friendly local people make it desirable. By Jessica Patterson
As England was nearing Zero temperatures in January, Barbados was a balmy 29 degrees Celsius (84 degrees Fahrenheit).Arriving in Barbados, the warmth and sunshine was a Godsend. We stayed at the Abidah by Accra Hotel which was just a 10-minute drive from Grantley Adams Airport. Launched in the summer of 2019, the Abidah by Accra Hotel is a relatively new 44-room adult-only hotel in Christ Church. Besides the utmost cleanliness and friendly staff, the Abidah offers incredibly spacious bedrooms, terrace views over the ocean and an all-inclusive package together with their bigger sister hotel The Accra Hotel. 
Our Ocean Front Grand room was located on the second floor, and it was complete with 1 huge extra-large king size bed, separate shower room and loo, 2 terraces, 1 for seating and 1 with a jacuzzi: both with views overlooking the ocean. 
Inside the hotel is Remous restaurant, bar, fitness centre, underground parking, and an outside pool. Guests can get a massage, facial or manicure on the 4th floor in the "Senses Spa" and can ask the lovely hotel reception team to organise anything from restaurants to car hire. The Abidah by Accra Hotel offer a very personalised bespoke customer service experience.
A step outside the hotel is a small beach with calm waves where hotel staff offer lounge chairs and will make you an array of cocktails on the beach. Barbados is a wedding-destination spot and Abidah by Accra have wedding specialists on hand to plan weddings.
Upon arrival at the Abidah by Accra Hotel, kind staff offer welcome drinks and will help with any request. Unlike a huge franchise hotel, the Abidah feels intimate, unique, and boutique. 
The location of Christ Church is a 10-minute walk from Oistins fish market which offers great local seafood from mahi mahi (a white fish, not actual dolphin which they call it), kingfish, barracuda, and many other fresh fish options that they catch and cook with mixed spices and serve with macaroni pie and pepper sauce. 
What we loved about Barbados is the ability to go on long walks, explore forests, eat local Bajan cuisine and go to high-end restaurants.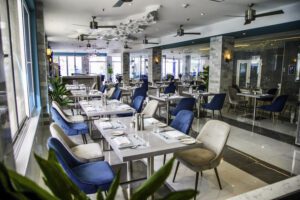 Our favourite high-end dining restaurants were Champers (South Coast) which boasts excellent European food and a gorgeous view outside onto the water, Nishi Japanese restaurant on the West Coast which has excellent lobster rolls and a rum connoisseur who came to our table to recommend the best rums (which Barbados is known for), and the Atlantis Historic Inn which served an incredible Jamaican Jerk Burger overlooking a blustery cliff. 
Our best local food moments were finding people who made food and served it out of their vans or by the side of the road. We had some great Jerk pork and chicken, rice and peas, and dried breadfruit we found being served by a lovely woman underneath an awning on the curb side. We stumbled upon Leroy's van near St Lawrence Gap on one of our long walks. It was perfect timing as we had been walking for about 6km and Leroy had prepared delicious chicken curry and fresh coleslaw.
Our favourite breakfast spot was Surfer's Café in Oistins which looks like a surfer's shack overlooking the water. They made delicious waffles, poached eggs, mashed avocado, and steak and eggs. We explored some wonderful natural sites such as the epic Flower Forest (the chef made the best banana bread I have ever had in my life), the Andromeda Botanic Gardens which was full of monkeys curiously tracking us through our walk, and the Animal Flower Cave where one can take a dip in the water (but be careful not to get too close to the edge).
For sunbathers, the calm waters on the south coast and west coast of the island make for peaceful beaches such as the small beach by the Abidah by Accra Hotel, Sandy Lane (infamous for the 5-star Sandy Lane Hotel where the top room can be $30,000 USD per night), and Holetown (a beach by the West Coast's upmarket restaurants and designer stores).
For adventurers and surfers, the rocky waves of the East Coast can be found on Crane Beach, Bathsheba Beach, and Bottom Bay.
Whether you want some local Bajan fish on the beach or a high-end dining beach holiday, Barbados is a fantastic destination.
https://www.theabidahhotel.com/
ADDRESS: Enterprise Beach Road, Christ Church, BB17068, Barbados, W.I.
EMAIL: ​reservations@theabidahhotel.com​
​PHONE: ​+1 (246) 538-8920 
​​TOLL FREE USA/CANADA: ​+1 (844) 422-4324