"Interior design is no longer just a luxury for the ultra-rich. Interior design is becoming a solid investment for many. No matter whether you're an individual seeking to renovate your home or an investor looking for ways to increase the value of your property portfolio, investing in luxury interior design can be a great way to make an investment that will pay off for years to come." https://www.build-review.com/how-investing-in-a-luxury-interior-can-give-you-a-great-return-on-your-real-estate/
Grove Square Galleries is delighted to present Ariel, a solo exhibition of paintings, prints, and drawings by British contemporary painter David Wightman.
Renowned for his striking imaginary landscapes, Wightman integrates collage, colour, and composition to create worlds which blur the lines between fiction and reality. Inspired by the colour theory of Josef Albers and the sublime landscapes of Caspar David Friedrich, these fantasy vistas defy strict categorisation, evoking elements of both the Romantic and the Abstract
Growing up in the working-class suburbs of Greater Manchester, Wightman took inspiration from his immediate surroundings, transforming the wallpapered walls of his childhood home into the mountains and ravines of his imagined scenes. His work combines formal artistic influences with the fantasy art he saw throughout his youth in the 1980s. Wightman moved to London to study Fine Art at Middlesex University and went on to achieve a Masters in Painting from the prestigious Royal College of Art, London at the age of 23.
Each painting begins with a 'cartoon' – the artist's term for his delicate line-drawing studies – before painstakingly collaging the canvas surface with hundreds of hand-cut pieces of textured wallpaper to build his landscape. Once a composition is fully collaged through a meticulous and time-consuming process, Wightman paints its surface – masterfully combining a distinctive colour palette with rich texture.
Untethered from views found in our real world and free from geographical constraints, Wightman's landscapes present an imaginary space rich in both colour and texture where abstraction and reality contest and converge. The once familiar swirls of living-room wallpaper patterns are re-contextualised as the crevices of mountains; bumpy spirals become ravines and glaciers set against lakes and skies of impossibly vibrant colour. It is through each of Wightman's vistas that we are offered a glimpse into another world – one that is seemingly real and yet entirely fictional.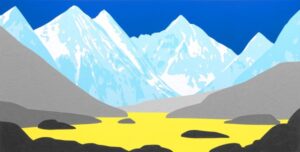 David Wightman
Ariel, 2022
Acrylic and Collaged Wallpaper on Canvas
90 x 180cm
£ 11,500.00
David Wightman
Frances, 2022
Acrylic and Collaged Wallpaper on Canvas
100 x 150cm
£ 10,500.00
David Wightman
Eve V, 2021
Acrylic and Collaged Wallpaper on Canvas
80 x 160cm
£ 9,000.00
David Wightman
Ariadne V, 2022
Acrylic and Collaged Wallpaper on Canvas
90 x 120cm
£ 7,500.00
Grove Square Galleries is a new London art gallery offering emerging and established collectors an avenue for exploration and discovery. Merging digital innovation and physical exhibitions, the gallery's Fitzrovia space offers a year-round programme of dynamic talks and events which run in tandem with an artist-led exhibition programme celebrating contemporary art practice worldwide.
The gallery is home to an independent and impartial art advisory service which works to build private collections, and to source secondary market pieces under the helm of Art Director Serena Dunn. With over a decade of experience within the art industry, Serena brings an invaluable wealth of knowledge to both the gallery and their prospective clients. Under her guidance, the gallery endeavours to engage audiences across creative disciplines, to create a holistic experience that is accessible and open to a range of visitors.
At the core of the gallery, the team at Grove Square believes that art and culture is a fundamental part of our world and are passionate about sharing their knowledge and expertise to champion their international roster of artists.
https://www.grovesquaregalleries.com/artists/46-david-wightman/works