According to estimates from ecommerceDB, the volume of online sales in Europe could exceed $900 billion by 2027, representing an increase of almost 60% compared with the previous year. The number of people shopping online is on the rise, and the share of online sales in company revenue is increasing. As a payment service provider, we can also observe this trend among the merchants collaborating with NJoy Payments.
The internet has transformed shopping into a cross-border activity. Consumers can now easily order their favourite products from other countries. Small manufacturers and merchants that previously relied on local market sales can now sell their products to customers from anywhere in the world.
However, merely creating an aesthetically pleasing website and attracting visitors through contextual advertising is not enough. Sometimes, customers browse a site, add items to their cart, but then fail to complete the purchase. Baymard, a company that specialises in analysing the online shopping experience, estimates that the share of such abandoned carts is 70%.
Let's delve into the reasons why people leave websites and explore what can be done to improve the conversion of website traffic into sales.
Website registration 
The problem: Users are required to register on a store's website and create a complex password involving a specific combination of lowercase and uppercase letters, numbers, and special characters. This can be frustrating and discouraging for customers.
The solution: Offer registration through the use of a third-party ID where the user is already registered and has input their details. This could be a secure authentication service provided by their bank, mobile operator, or a government service.
Payment form
The problem: When a user wishes to place an order, they encounter an overly lengthy and detailed payment form that necessitates the input of copious information. There may be additional issues with the payment form – for example, it may appear properly on the website but suffer formatting problems in the mobile version or fail to match the design and colour scheme of the rest of the site, leading to concerns about potential fraud.
The solution: Strive for shorter payment forms that offer data retention and auto-suggestions. The payment form should not significantly deviate in design from the other sections of the online store's website. Reputable payment providers, like NJoy Payments, work diligently to ensure that their forms look right and function well in various internet browsers and on mobile devices.
Delivery
The problem: Users compare products on different merchant websites across various regions. To facilitate their decision-making process, they require an understanding of the delivery cost to their city, inclusive of possible taxes and duties, as well as a precise delivery timeline. Specifically, they want to ensure that the product will be delivered promptly for a special occasion in their life.
The solution: Collaborate with multiple delivery services, including options for express delivery for a slightly higher fee. Offer users comprehensive information regarding delivery times and costs to their specific location, cross-referencing it with your logistics partner.
Payment methods
The problem: Users may leave a website if they cannot find their preferred payment method. Some users prefer payment through electronic wallets like PayPal, while others value the option to purchase on credit or in instalments. Some may prefer a payment method that is prevalent only in their country and not offered by foreign stores.
The solution: Choose a payment provider that offers the most popular payment methods in your region. For instance, NJoy Payments has observed increasing demand for buy now, pay later (BNPL) payments in addition to other options, such as cards, Google Pay, and Apple Pay.
I mentioned only a few fundamental methods for increasing conversion – the percentage of customers who not only visit your website but end up making a purchase. Remember that even a slight increase in conversion can substantially boost your profits. Most importantly, believe in yourself and do not fear change!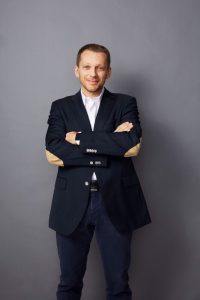 Anatoly Makeshin (pictured) is a fintech entrepreneur and investor. He has over 20 years' of experience working for banks and fintech companies, where was responsible for payment solutions. He and his team are currently focused on process automation in their acquiring products for small and medium-sized enterprises. Anatoly Makeshin also founded and is now developing the NJoy fintech project, which was launched in Europe last year.