Dubai is known for its bling lifestyle, gigantic skyscrapers, and trendy beach clubs. Most international business and leisure travellers visit Dubai in the autumn, winter, and early spring months, avoiding the long hot summer season which can reach a staggering 50 degrees Celsius (just over 120 degrees Fahrenheit)!
Traveling to Dubai from London, after a long stop in Budapest, we visited Dubai in December: one of the coldest times of the year there – a hot 27 degrees Celsius (80 degrees Fahrenheit) – the perfect temperature for a hot holiday destination right before Christmas.
What I love most about Dubai is the excellent service, incredible quality cuisine, and of course the hot dry weather which makes for wonderful sunny beach days gazing out at flame-red sunsets whilst being served ice cold Japanese sashimi on a sun lounger.
There are many ways to experience Dubai and I have listed the top 5 things to do.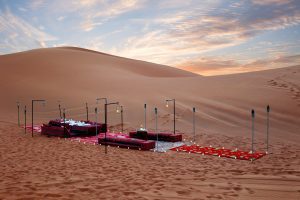 Be an Adventurer: Drive Dune Buggies, Go Sand Boarding, Ride Camels, and Experience a Private Dinner in the Desert with Expert Rangers. Expert Rangers organises the most fun adventure experiences you can have in the Dubai desert.
We drove their two-seater dune buggy up and down the sand dunes, guided by a convoy leader. Geared up with helmets, this 10km of driving through the red desert was exhilarating. They also take a break for drivers to be able to stop, take pictures and sand board down a dune (which is terrifying!). The beauty and expansiveness of the desert is amazing. You can also organise camel rides and a full Dune Buggy Safari Day with a private BBQ dinner, desserts, and marshmallows on the sand beside a roaring campfire. You can specially request a Falcon Display and Shisha. We recommend you book Expert Rangers for a fun excursion with friends.
Expert Rangers Dubai Tourism
Al Dhafra Building – Office 414 – Al Qusais – Al Qusais 2 – Dubai – United Arab Emirates
Indulge in 5-Star Luxury: Indulge in pure luxury and excellence and book a suite at the Four Seasons Hotel Dubai International Financial Centre.
Our top-rated hotel in Dubai, the Four Seasons Hotel DIFC offers incredible unbeatable service, outstanding Modern European cuisine at Mina Brasserie, exquisite sushi and Wagyu beef burgers at Luna Sky bar, an amazing glass pool and jacuzzi, and an utterly indulgent spa with expert massage therapists. A more boutique intimate hotel, the Four Seasons Hotel DIFC also gives you access to their larger property the Four Seasons Resort Dubai at Jumeirah Beach. We recommend you book the executive suite for a business trip or luxury couple's romantic holiday.
Four Seasons Hotel Dubai International Financial Centre
Building 9, Unit GV09, Level GF Gate Village – Dubai – United Arab Emirates
https://www.fourseasons.com/dubaidifc/contact-us/
Plan a Family Holiday: If you want to experience unlimited access to homemade fresh juices poolside, the largest buffet you've ever laid your eyes on, four distinct restaurants, an extensive spa, fresh homemade baklava, and a private beach, Rixos The Palm Dubai Hotel & Suites is the place to book. Rixos is its own private enclave that is the only all-inclusive luxury resort on the desirable Palm. This is probably the best value resort for its location in Dubai and very family friendly. The rooms are large, and the hotel offers everything you may possibly need – from swimwear, jewellery, food to freshly made desserts, Rixos has everything for a fun family holiday. We recommend booking this if you are travelling with your family and want somewhere close to a beach, pool, and amenities.
Rixos The Palm Dubai Hotel & Suites
East Crescent – Plog40 Palm Jumeirah – Dubai – United Arab Emirates
https://www.rixos.com/en/hotel-resort/rixos-palm-hotel-suites
Enjoy a Countryside Equestrian Retreat: The Meliá Desert Palm is a green oasis uniquely situated on a 160-acre polo estate. Originally a sparse desert of sand, the founder constructed a gorgeous unique property over 9 years and now it is filled with bright pink flowers, exotic large olive trees that were specially imported, colourful peacocks (including a pure Albino white peacock), expansive green grass coating the grounds, and carefully constructed stables for the numerous polo horses which are very well looked after there. A popular spot for weddings, this place has a special quality unlike any other property in Dubai. The estate is now filled with luxurious villas one can rent whilst horse lovers reside there as it imbues a quiet calm. We recommend booking the polo suite which overlooks the green grounds or booking a luxury villa with private pool.
Meliá Desert Palm member of Meliá Collection
Al Awir Road – Warisan – Dubai – United Arab Emirates
•+971 4 323 8888
https://www.melia.com/en/hotels/united-arab-emirates/dubai/hotel-desert-palm-melia-collection
Mövenpick Hotel & Apartments Bur Dubai
MHBD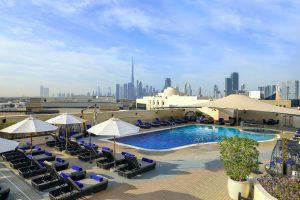 Live like a Local with an Apartment-Size Room: The Mövenpick Hotel & Apartments Bur Dubai offers great service and welcome you with cold juices as you enter the reception, they boast large sized suites as well as apartments, and they serve a fantastic breakfast buffet with Modern European dishes and some incredible Indian cuisine.
Located within 10 minutes' drive to the Dubai International Airport, The Mövenpick Hotel & Apartments Bur Dubai offers fully equipped apartments with modern kitchens and a washer/dryer. Lovely staff, great breakfast, and the location is very accessible for short stay and long stay business travellers needing a hotel near the airport. We recommend booking a suite for a short stay or an apartment for a long business stay.
19th St – opposite American Hospital – Oud Metha – Dubai – United Arab Emirates
https://www.movenpick.com/en/middle-east/uae/dubai/hotel-dubai-bur.html?utm_source=google&utm_medium=local&utm_campaign=hotel-MHR-Bur-Dubai&y_source=1_MTUzNjI1OTctNzE1LWxvY2F0aW9uLndlYnNpdGU%3D