How technology can help businesses work smarter, not harder BY Ritam Gandhi, Founder and Director, Studio Graphene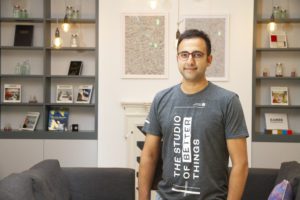 Innovative technologies like artificial intelligence (AI) are transforming the way businesses are able to undertake mundane and repetitive tasks. By processing voluminous reams of data in seconds, AI toolsets are being deployed in an increasing number of organisations to improve the way they operate.
However, there remains a disparity between those companies willing to adopt or experiment with AI, and those showing resistance. According to a recent global report which surveyed over 3,000 business executives, only 23% of businesses have incorporated AI into their processes or offerings. Paradoxically, 83% of the respondents said that AI is a strategic priority for their business today. Now that helpful AI tools are widely available to large and small businesses alike, what are some simple ways that business leaders can reap the benefits of this technology? How managers can benefit from AI and improve company efficiency
According to a recent study by Accenture, administrative tasks performed by project managers took up a significant 54% of their overall work time. The study also found that only 10% of a manager's time is spent on strategic planning. The lack of time available to managers for strategic planning can have a drastic impact on the way they are able to perform more high-end tasks. Not only does it limit creativity and problem solving, it reflects an inefficient allocation of resources. This is where AI comes in. Shifting repetitive tasks like scheduling and reporting to AI toolsets can free up managers to effectively oversee the delivery of different projects, and removes the risk of them being bogged down by administrative work. Another benefit is the reduced risk of error. Humans are prone to making mistakes.
By contrast, AI solutions use independent reasoning and intelligence to complete a task and can thereby increase the accuracy of an action being undertaken. So what are some solutions that businesses can try their hands at? Tools like x.ai solve the hassle of scheduling meetings and appointments, with AI-powered personal assistants performing these tasks instead of draining the precious time of employees. Meanwhile, solutions like AISense have made creating meeting notes infinitely simpler through their ability to capture and transcribe human speech. What's more, this particular tool is available as a feature of Zoom, which makes it easily accessible even to small organisations.
Revolutionising recruitment Finding the right team is at the heart of any business. There's a good reason why companies divert so much time and resource towards finding, securing and retaining the right talent. When dealing with swathes of applications and a large candidate pool, however, this is no easy feat. What if AI could simplify all this? Particularly in the screening stage, AI solutions come in handy when sifting through applications and determining which candidates possess the mandatory skills and experience needed for a position. This can be done by programming a number of keywords or phrases for an AI algorithm to look for, thereafter picking out the candidates who best fit the company's needs.
AI in the form of chatbots or automated messaging services is also an advantageous instrument. Instead of having to individually respond to emails or phone calls, and repeatedly answer the same questions about the company or hiring process, chatbots like mya offer applicants the answers they're looking for at any time of day. Powered by machine learning (ML) and natural language processing (NLP), these chatbots are also constantly improving the quality of their responses based on user feedback.
Optimising the recruitment process means providing the best possible experience for candidates, and these capabilities ensure that candidates are well-supported throughout their application. It's important to note, however, that the best results come from technology and people working together. Humans are still the ultimate decision makers when it comes to choosing the right person, but AI solutions are there to make this process inherently quicker and simpler. Setting and reaching business goals We cannot discuss the benefits of AI in the workplace without also looking at how it can help businesses achieve their set targets and milestones.
AI has even made its mark on this sphere; goal setting software is helping business leaders and project managers set and achieve key target results. It does so by learning from input such as previous target results and management behaviours, before offering valuable, data-driven insights which can optimise the goal-setting processes. WorkBoard is a notable leader in this field, giving businesses the opportunity to grow sustainably through careful planning. Amongst other things, this AI software can automate business reviews and management reporting, offer progress reports on key results and success metrics, and ultimately help businesses meet their personal goals. Reaping the benefits of technologies like AI doesn't have to be needlessly complicated.
All it takes is businesses maintaining an open-minded attitude and a willingness to embrace new  opportunities when possible. And with the number of AI tools at companies' disposal expanding every day, businesses large and small are encouraged to explore how they can utilise these solutions. Ritam worked as a consultant for a decade for the likes of Accenture and Bank of America Merrill Lynch before, in 2014, going on to launch Studio Graphene – a firm that specialises in developing blank canvas tech products for small businesses through to large corporates. Working with many startups alongside innovation teams in more established companies, the London-based agency plans, designs and builds astounding tech products for its clients. What's more, Ritam and the team also use their experience and expertise to help leaders grow their business from ideation, to launch and beyond.