It's that time of the year again: as the final weeks of the year begin to settle, leaders of global society know that the time to improve the state of the world is almost here. But in the upcoming year, it will be even more special. The World Economic Forum's (WEF) Annual Meeting is about to reach an impressive milestone: in January 2020, it will celebrate its 50th anniversary. Professor Klaus Schwab, founder and executive chairman of the WEF, once said that his childhood during World War II inspired him to build an organization that would make the world a better place.And so he did. Today, the World Economic Forum represents an effort to bring together global leaders and influencers to address problems that go beyond national borders. The World Economic Forum first came to Davos in 1971. A snowy, remote town in Switzerland Alps was first chosen as a location so that participants would feel relaxed enough to speak frankly, in an atmosphere of mutual respect and cooperation. Back then, the event was known as the European Management Symposium (EMS) and lasted two weeks.
Since the very first meeting, Klaus Schwab championed the idea that business should serve all stakeholders — customers, employees, communities, and shareholders. So he asked business leaders from Europe to come together and discuss how they were competing in a global marketplace, particularly against American companies. But the overall vision of the founder was deeper: political events influenced the processes, and in 1973 the Forum expanded its focus from management to economic and social issues. The year later, in 1974, political leaders were invited to join the Forum for the first time. Finally, in 1987, the EMS changed its name to the "World Economic Forum" and established a platform for dialogue between countries. In 2015, the Forum was formally recognized as an international organization. Officially, the next long-term aim of the WEF is to become a platform where public and private cooperation could take place. Often referred to as the "Magic Meeting Place", Davos is known for its ability to get business and political leaders to open up and find solutions.  For example, in 1988, Greece and Turkey were on the brink of the war, but managed to sign a no-war agreement, also known as the "Davos Declaration".
In 1989, North and South Korea held their first ministerial-level meetings here. In 2018, the Greek and Macedonian prime ministers met face to face for the first time in seven years, paving the way to the end of a 27-year dispute over Macedonia's name. Over the years, Davos joined together many leaders: former US Secretary of State Henry Kissinger, Israel's President Sh. Peres, French Premier Raymond Barre, South Africa's F. W. de Klerk, Nelson Mandela and others. In 2019, more than 3000 participants came together for more than 600 hours of events, sessions, and parties, attracting celebrities like Matt Damon, Wyclef Jean, and Tony Blair. Last year's Annual Meeting has also brought together Angela Merkel, Sebastian Kurz, presidents of Iraq, Afghanistan, Colombia, Peru, Rwanda, Uganda, and Zimbabwe, as well as prime ministers of Japan, New Zealand, Italy, Spain, Israel, the Netherlands, Norway, South Africa, and Vietnam.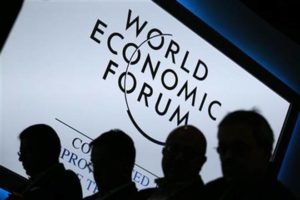 The UN chief Antonio Guterres, heads of the UN agencies for trade, labor, refugees and human rights, as well as the heads of the World Bank, the International Monetary Fund and NATO was also there. However, although the Annual Meeting brings together such an impressive number of politicians, business leaders, and academics, the real action in Davos is known to happen outside of the conference. Rich Stromack, a venture capitalist who started attending the WEF more than 10 years ago, noted that "Those people are coming here because they can have meetings with maybe 50 potential clients, or investors, in the space of 3 days that would take them 10 years to do outside of this." Today, WEF is an invite-only event, and even those who get an invite might not be able to afford the cost of admission. Most badges require to be an official member of the Forum, which costs from $60 thousand to $600 thousand, plus an additional fee of more than $27 thousand per person to get into the conference.
Top members also get access to private sessions with their industry peers and can enjoy an individually dedicated car with a chauffeur. However, non-business participants, young world leaders, some media, heads of state and ministers from more than 70 countries do not have to pay to participate in the WEF. There are also some specific scholarships available to help academics attend the event. In 2020, prime ministers, presidents, top CEOs and social entrepreneurs will come together for the celebration in Davos once more. The exact guest list of the next year's Meeting is not uncovered yet and more details are expected to be revealed as we get closer to the event.
However, speculations regarding the names  already abound, discussing whether the US President Donald Trump and Russian President Vladimir Putin will both participate in this anniversary event. Among global business leaders, Michael Dell of Dell, James Dimon of JP Morgan, Deloitte's Punit Renjen, Ginni Rometty from IBM, Facebook's Sheryl Sandberg, Rajiv Suri from Nokia and Axel Weber from UBS are expected to participate in the Annual Meeting. Keeping in mind such an impressive crowd, during the WEF there are many police officers in Davos. Soldiers and snipers can be seen patrolling the streets, and security checks take place throughout the town. The Swiss federal government has made provision for the deployment of up to 5000 armed forces personnel to keep the high profile attendees safe and secure.
The bill for security services is also impressive: 9 million francs each year. The Swiss government justifies these high costs saying that the WEF is "an exceptional event for Switzerland as it provides a unique opportunity to cultivate relations with a great many leading figures in a special setting." The World Economic Forum has already announced the theme and details for its 50th Annual Meeting. Turns out that the Meeting's theme will be "Stakeholders for a Cohesive and Sustainable World", and it will aim to give concrete meaning to "stakeholder capitalism", assist governments and international institutions in tracking progress towards the Paris Agreement and the Sustainable Development Goals, and facilitate discussions on technology and trade governance.
Professor Klaus Schwab commented on the upcoming Forum's theme, saying that "People are revolting against the economic 'elites' they believe have betrayed them, and our efforts to keep global warming limited to 1.5°C are falling dangerously short. With the world at such critical crossroads, this year we must develop a 'Davos Manifesto 2020' to reimagine the purpose and scorecards for companies and governments.
It is what the World Economic Forum was founded for 50 years ago, and it is what we want to contribute to for the next 50 years." The program of the Meeting will prioritize 6 key areas: ecology, economy, technology, society, geopolitics, and industry. The ecology segment will focus on how to mobilize businesses to respond to the risks of climate change and ensure that measures to protect biodiversity reach forest floors and ocean beds.
The economy focus will be mainly on how to remove the long-term debt burden and keep the economy working at a pace that allows higher inclusion, while the technology segment will focus on how to create a global consensus on deployment of Fourth Industrial Revolution technologies and avoid a "technology war".  The society segment will focus on how to reskill and upskill a billion people in the next decade, while the geopolitics segment will talk about how the 'spirit of Davos' can create bridges to resolve conflicts in global hotspots.
The industry-related sessions will focus on how to help businesses create the models necessary to drive enterprise in the Fourth Industrial Revolution and how to navigate an enterprise in a world exposed to political tensions and driven by exponential technological change, as well as increasing expectations from all stakeholders. Elaborating further, a WEF spokesperson said that the big message at the 2020 Meeting will be renewing stakeholder capitalism: "This year represents a real tipping point when it has become obvious that 'business as usual' capitalism is no longer fit for the purpose. We need more investment in skills and green growth to lift productivity, and hence the business performance.
There need not be a trade-off between long-term growth through sustainability and inclusiveness and short-term economic performance." The 50th Anniversary Meeting will be one of the most sustainable international summits ever held. Back in 2018, it was awarded the ISO 20121 standard for sustainable events and is fully carbon neutral through reducing, calculating and offsetting event-related emissions. The 50th Annual Meeting will use only locally—sourced food suppliers, introduce alternative sources of protein to reduce meat consumption, source 100 percent renewable electricity, introduce more electric vehicles, and reduce or eliminate the use of such materials that cannot be easily recycled or re-used, such as carpets