By David Fletcher ( pictured ) , Partner at London law firm, Farrer & Co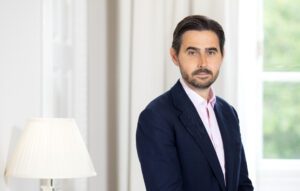 There are many aspects of establishing a sustainable economy that provoke disagreement and controversy, but one point that is not open for debate is that it will require a fundamental shift in how businesses and consumers operate. The question then is how do we bring about these changes and what will be the catalyst?
Anyone aware of names such as Musk, Jobs or Bezos will appreciate the ability of entrepreneurs to deliver structural change and disrupt established systems on a global scale. Whilst legacy business models can weigh down larger and more traditional businesses, most entrepreneurs have a desire to deliver their own personal vision within their DNA. This single-minded focus allows them to both create new, innovative businesses and provides them with the freedom to deliver that vision.
Increasingly, we are seeing this drive to succeed reflected within a business' very structure – placing both a desire to achieve a positive economic outcome and a sustainable social impact at the heart of a business in a model we call For Profit, For Good.
Indeed, it is now very common for peers within the entrepreneur community to instinctively challenge new business models from the outset and ask whether it is possible for the business to be both economically successful and sustainable. What is equally noticeable is that these business models seek to change customer behaviours by making the positive outcome more desirable. This is not an attempt to enforce a sustainable economy but to make the new behaviours a positive selling point; appealing to the fundamental principle of business: give the customer what they want.
A perfect example of this is company we have been working with called Ocean Bottle, which has two founders: Will Pearson and Nick Doman. Thanks to David Attenborough and Blue Planet, most people are acutely aware of the effect that ocean plastic is having on marine life. Will and Nick realised that in order to help tackle this issue there would need to be changes in how people consumed liquid – relying far less on single use plastic – as well as stopping plastic that had already been used from polluting the ocean. Instead of focusing on what people should not do, they designed a new product that is both desirable and has a positive impact.
Whilst the aim was to help the environment, Will and Nick knew that design was still vital and they dedicated a significant amount of time at the outset to produce an innovative concept that is not only highly practical but also looks good (The London Times recently said that "if Apple designed a drinks container for life it would look like this"). Whilst many reusable bottles enable people to cut down on their own personal use of plastic, Will and Nick went one step further and, thanks to a joint venture with Plastic Bank, for every bottle that is bought the equivalent of 1,000 plastic bottles are collected and prevented from entering the ocean.
Talking to Will, he has a strong sense that entrepreneurs can make a real difference to how we
change our habits to enable a more sustainable economy: "just as great companies, from Ford at the start of the 20th century through to Tesla in the 21st century, were founded by an individual with a clear sense of purpose and have driven human progress, entrepreneurship holds the potential to play a great role in the development of the sustainable economy."
Ocean Bottle is a great illustration of how entrepreneurs can change the norm, provide consumers with what they want and make our economy, and indeed our ecosystem, more sustainable. The good news is that there are other entrepreneurs with the same vision as Will and Nick, who are driven by a sense of purpose to make change happen. It will be fascinating to see how these businesses develop over time; with the right support and expert guidance, these kinds of enterprises can both succeed as a business and make positive change in the world.