European Business caught with our front cover focus James Hickson CEO  of Mash. Mash won Europe's leading Fintech firm 2017 /2018 from our readers and subscribers which is some feat considering the competition it had .It was one of the most highly contested categories and when you look at the Fintech firms springing up in Europe as well as the already established field – it was a difficult one with many having multi millions of pounds invested into them with very bright futures . Mash won the coveted award and for good reasons. 
Mash- having been at the forefront of Fintech  for many years with  Morgan Stanley,  James joined  Mash  in May 2017 to drive  the next phase of  company growth.  With major partnerships  now under their belt,  including Verifone, Mash is  delivering seriously disruptive  solutions for consumers and  Merchants by delivering superior  Finance and payments solutions  to thousands of customers every day. We get the low down on  James and where he is looking  to go with Mash.
In which company, when and where, did you start your financial career?
I started my career at Morgan Stanley in London 15 years ago when I joined the Technology graduate program. It was a fantastic start following my academic and advanced studies and quickly highlighted the need to think about technology and data as a competitive capability.  One of the exciting things about working for an organisation like Morgan Stanley is the exposure to complex business and technical problems at significant scale, that's a fantastic environment in which to grow.
Have you always been in banking?
Following my time in London, I moved to Saudi Arabia for two years to establish Morgan Stanley's full service investment bank; this was a fantastic opportunity to focus on entrepreneurship and learn how to build a full service investment bank in an emerging market. Hungary, as country head, followed for three years, which was a fantastic opportunity to build and manage a large organisation that needed to grow rapidly. I concluded my time working in Fintech – collaborating with external companies and our internal organisation to help identify business opportunities, collaboration partners, IPO & M&A targets and opportunities to spin out our own technology through VC funding or asset sale.
Outside of my work at Morgan Stanley, I actively invested in and coached companies as well as starting new ventures independently that focused on the convergence of data and product.
You have had quite a lot of international experience in the field of Fintech and you have essentially been at the forefront of the financial landscape and its huge changes over the last five years, especially with Morgan Stanley.
Which role has given you the greatest experience to lead a dynamic Fintech company such as Mash and why?
A house takes many bricks and I would say that careers are similar; it is not one specific experience that helps but the collection as a whole. I was fortunate to have developed a very broad set of skills –  be that my strong technical foundation, experience working with the regulator in an emerging market, building an organisation of thousands in Hungary or meeting and coaching 1000+ fintech companies in New York. I wouldn't say I had a particular plan in mind, I just focused on what I enjoyed doing which was the intersection of technology and business. Equally, I have been fortunate to have excellent mentors that helped me evaluate my choices and helped me develop my capabilities and thinking.
That said, I would say that my last role in Technology Business Development helped me bring together my experience in a holistic and meaningful way and for that, I am deeply grateful. It is common for many in those teams to make the leap into industry given the calibre of the individuals and access to business leadership.
In general, banks (and other large international companies) like Morgan Stanley and Goldman Sachs, are great environments to learn both hard and soft skills. I would recommend the experience to anyone.
When you were offered the role of CEO in Mash was it a tough decision to leave your previous role? What were the prospects that excited you most about leading Mash as CEO?
Joining Mash was frankly the easiest decision of my career despite the leap from New York to Luxembourg. There existed a solid underlying business, a strong technology foundation, a passionate team and a founder – Tommi Lindfors – that I deeply trusted and respected. My wife taught me that, 'Life is not a dress rehearsal' and it is in that spirit I said yes.
For me, my aspiration was to build a fintech business that added real value to consumers and one that employees and shareholders were proud of. I also believed that there was real opportunity to bring together a number of different fragmented businesses to build a single value proposition.
I believe we are well on our way at Mash, most recently with our partnership with Verifone in Europe. We will continue to build out our partner eco-system where we are convinced we can build mutually accretive partnerships.
We will make mistakes along the way, either self-inflicted or because of fantastic competition, but at our core, I believe we will win.
You have been an employee with Morgan Stanley for many years throughout your career but where did you really begin to think that Fintech would eventually challenge the big banks such as Morgan Stanley?
That's a good question.
In many ways, that realisation didn't crystalise as a core belief until I left Morgan Stanley. I now spend a lot of time with banks and am amazed at how far behind they are from delivering the fintech promise. Many are slow in their decision making, lack vision or see risk and regulation as inhibitors of great ideas rather than business catalysts.
This offers fintechs a great opportunity, but I still don't think the future (yet) is to go it alone. Winners will be those that find ways to collaborate with banks or industry partners successfully with mutually accretive partnerships. That spells bad news for banks that do not have a partnership strategy staffed with people that are empowered to think and act like entrepreneurs (e.g. own P&L, resourced correctly and with direct access to the CEO).  
While I believe that the European market will largely stay fragmented, there is clearly going to be a convergence of banks and banks & fintech companies in the future. I see a world where there are 3-4 bank winners that are able reinvent themselves (the bar is low today), new players with existing large customer pools expanding their services in a category I call 'banks via the back-door' (i.e. Amazon, Google, Facebook) and banks largely acting as commodity platforms e.g. leasing their bank charters to nimbler competitors.
Can you tell us what Mash does, the story behind it and the objectives of the firm?
Mash has been at the forefront of FinTech innovation since 2007. We leverage our advanced proprietary algorithms, machine learning capabilities and automated platform to deliver superior finance and payments solutions to thousands of customers every day.  In addition to direct consumer loans, we provide pay later solutions and credit cards.
One of our core aims is to impress the customer, every time. With this philosophy, we approach how we build our solutions differently. We think of the consumer and merchant first.  As a result, we don't charge merchants a fee for our service, we process merchant payments instantly and we own the credit risk. This is highly divergent from traditional players in the payments space who charge may charge both a monthly fee and a transaction fee. We didn't think that model was fair. Why? We realized that, for Merchants and particularly the hardworking SMB owner driving much of the European economy today,  if we treated them as real partners we would seek to enable their business and help boost sales, in turn they could help us acquire new customers. It's the philosophy that's helping is win business from peers (and there's some great ones) as well as develop our next set of products.
We currently have operations in Finland, Sweden, Poland, Spain and Luxembourg and are pushing ahead with our growth plans.
Does Mash have Mash have any direct competitors?
We are one of only two companies in Europe that can deliver online and offline payments solution; although we expect the space to become increasingly competitive as US players enter the market. That said, the market today is fragmented across Europe, which provides a unique opportunity for us as we scale rapidly with our partner Verifone.
There is a partnership with Verifone. Can you outline the expansion plans with Verifone?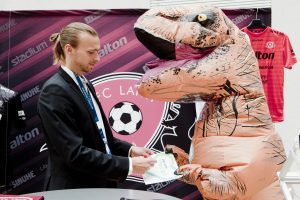 Verifone has proved to be a phenomenal partner and we are excited to be collaborating with them. We plan to continue to expand the distribution of our pay later solution across Europe and reach hundreds of thousands of merchants.
Moreover, the intersection of technology, data, merchants and consumers opens up new business models that we will naturally explore in due course. Our singular focus today is on executing our immediate opportunity and impressing our customers.
Can you discuss the most difficult challenges you have had with Mash?
This has been a phenomenal first year. We significantly strengthened our executive leadership team, hiring a deep bench of new talent across finance, operations, sales, marketing and business development.  We revised our core values and realigned the organisation internally. We completed a detailed review of our product fit, resulting in a shift away from fee-based pricing to interest-based pricing. We focused relentlessly on our existing partnerships – with brokers, affiliates and data providers. We expanded our market opportunity with strategic partnerships including a European agreement with Verifone to provide our pay later solution to hundreds of thousands of merchants across Europe and a partnership with Shopify.  We completed a detailed review of new markets and established a presence in Spain. Finally, we repositioned our brand away from a product lead brand (Euroloan) to Mash, a consumer lead FinTech brand for which we secured a pan-European trademark. Further, our board has been integral in identifying new equity to fuel our growth.
Against that backdrop, there is more opportunity than time and capital and we continue to be thoughtful about how we execute while also preserving our focus on customer happiness.
We still have much more work to do. We have bigger and bolder goals yet to accomplish.  The story of Mash is still being written, but 2017 was a transformative year in our company's history.
Mash won the award for Best Europe Fintech Firm 2017/18 from our readers, which is a huge accolade considering the competition. Can you tell us why you think it is being voted as Europe's leading Fintech firm?
We are incredibly honoured to receive the award. Thank you to you and your readership.If I were to reflect on why we are being voted as Europe's leading Fintech firm I would have to say it is the result of the passion and energy of our Mashers – our employees and partners like Verifone that have worked tirelessly to impress our customers one transaction at a time.  
This reward reflects the hard work and dedication of the Mash team and I am privileged and humbled to have played a part in that.
What is the plan for the next five years for Mash?
An unrelenting passion to impress our customers.
We are focused on building products and services that merchants and consumers trust and want to use.  When you focus relentlessly on your customer and how you can disrupt the current way of doing business you change how you compete in the market. Yes, we expect to lend more than 0.5B EUR next year, yes, we will increasingly add new partners and products, but none of this is possible if we don't wow our customers every day, every time.