I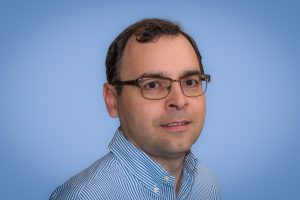 n January 2023, a consortium of companies and institutions kicked off the European Protected Waveform project with the end goal of enabling the interoperability of tactical satellite communications. In this interview, Koen Willems, VP, EU Programs & Government Relations, ST Engineering iDirect, explains why this waveform is so important and how it will be delivered. Interview with  Koen Willems (pictured)  VP, EU Programs & Government Relations-ST Engineering iDirect
Can you tell us more about the European Protected Waveform? What is it and why is it needed?
In today's military applications supported by satellite communications, high data rates, security, resilience, information assurance and link efficiency technologies are inextricably linked. Military operations are becoming more complex as conflict areas grow more dispersed on a global scale, with a growing need to support a diversity of on-the-move, on-the-pause and fixed platforms on land, in the air and at sea over both GEO and multi-orbit satellite constellations.
Current secure and tactical satellite communication waveform solutions are expensive, inefficient and do not allow them to be interoperable amongst multiple vendors
The European Protected Waveform (EPW) is built around four cornerstones: agile, secure, affordable and interoperable satellite communications. The EPW will be developed in tandem with current and future requirements for military and secure operations considering upcoming disruptive technologies, EU initiatives such as GovSatCom and IRIS2 and multi-layered security and resiliency solutions.
As such the EPW is accessible to small, mid-sized, and large European nations seeking to embrace todays and future challenges related to increased throughput demand over satellite, dispersed operations, mobility, and new security threats.
Through disruptive innovative technology coming from key stakeholders in EU industry and universities, the EPW addresses the growing demand for European autonomy.
Who are the stakeholders involved in the project?
The stakeholders, a mix of large companies, SMEs and universities come from 11 nations across the continent including Belgium, Denmark, Germany, Croatia, Italy, France, Luxembourg, Netherlands Poland, Spain and Romania.
The triple helix approach to the program will ensure the waveform benefits from the shared experience and expertise of government, educational institutions, and industry to deliver an end result that is of the highest standard. The project is being led by us at ST Engineering iDirect Europe. The development of waveforms has always been part of our company's DNA, seeking the best balance between efficiency, agility and security.
The coming together of these key companies and institutions, with their combined knowledge and experience will equip European countries with highly reliable, seamless satcoms to ensure that they can communicate with confidence and security no matter where they operate.
How long will the project run for?
The Consortium will work together over a period of 39 months to design the waveform and accompanying technologies for resilient and secure satellite communications. It will comprise two phases: the design phase and the certification and productization phase.
How will the project be funded?
The project will be co-funded by the European Defence Fund and the participating nations.
Why is the project so important?
The EPW will become Europe's sovereign satcom waveform, future-proofing satellite capabilities for European countries and promoting interoperability across European agencies ensuring its deployment in joint operations. The waveform will be agile, secure and resilient but also affordable so that smaller nations will also be able to take advantage of its capabilities.
Co-funded by the European Union. Views and opinions expressed are however those of the author(s) only and do not necessarily reflect those of the European Union or the European Commission. Neither the European Union nor the granting authority can be held responsible for them.
Bio: Koen Willems VP, EU Programs & Government Relations-ST Engineering iDirect
Koen Willems has +20 years' experience working in different technology industries. Before joining ST Engineering iDirect he was Product Marketing Manager for Europe at the electronics giant TOSHIBA.
Currently, Willems is Head of International Government Market & Strategy, with focus on the global government, defense and humanitarian satcom markets, at ST Engineering iDirect. In this role Willems is in charge of developing and defining the company's strategy for the government and defense market worldwide as well as supporting large programs.
Willems has a master's degree in English and Scandinavian Languages from Ghent University and a master's degree in Marketing Strategy and Management from Vlekho Business School.
More recently, Willems received the degree for 'High Studies in Security and Defence' at the Belgian Royal Higher Institute for Defence as well as the degree for the SERA program (European Session for Armament Officials) which focuses on European defense acquisition regulation, challenges and procedures at the French National Institute of Higher Defense in Paris.
You may know Willems as a technology and thought leadership evangelist through his regular appearance in editorials in satellite-focused publications, white papers and speaking slots at government- and defense-oriented conferences around the world.