The ever-rising complexity of manufacturing operations post-pandemic requires shop floors to continually adapt to the introduction of new technologies, machines, processes and production environments. As a result, there is an increasing skills gap, which calls for new learning solutions that are cost-effective and efficient at the same time. 
Augmentation technologies offer an opportunity to enable lifelong learning and development of employees. For example, applications such as augmented reality (AR) and virtual reality (VR) training, mobile learning or smart workstations can enhance both on-the-job and off-the-job learning. 
Gemba offers on-demand virtual training that galvanises global teams to learn at scale. Powered by an immersive, virtual learning platform used to make learning faster, more effective and engaging, Gemba has trained senior executives at over 1,000 leading organisations such as Philips, Coca Cola, and Pfizer on how to do things better, faster and cheaper.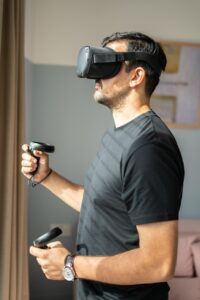 Gemba CEO and founder, Nathan Robinson (pictured), has said: "In many businesses, there is no additional secret apart from an empowered workforce executing the right strategy faster than anybody else. Large-scale, real-time, location-independent reskilling is going to be the biggest competitive advantage in any industry. Here, immersive VR learning can be a catalyst."
The company illustrated the impact of their immersive learning in the World Economic Forum's latest Augmented Workforce white paper, exploring augmentation in manufacturing and the benefits that accrue. Their latest case study showcases a Tier 1 automotive supplier Aptiv using Gemba to upskill 135,000 of its people working in manufacturing in Lean production. 
In-person training would require Aptiv to recruit and deploy more than 400 high-quality instructors. Instead, Edward O'Brien, Aptiv's Global Operational Excellence Leader, decided in 2019 to work with technology-mediated learning provider Gemba to scale operational excellence training to the worldwide teams. 
Together with Gemba, Aptiv created cross-hierarchical, immersive learning journeys tailored to the needs of the workforce. More than 7,800 employees were trained in the first courses alone. Gemba's immersive learning platform enabled Aptiv to "convey knowledge at a much higher depth and breadth, with an 80% higher efficiency compared to real-world training", according to O'Brien. Using Gemba's scalable technology means the company can start closing skills gaps on a mass scale at a much faster rate.

"We knew the success of our Lean training would depend on the ability of employees to grasp the concepts of continuous improvement and reinforce them daily as a habit," says O'Brien. His Operational Excellence team had always preferred to conduct training in-person, but the process is time-consuming and the team's bandwidth is limited. "With our current resources and targets," he says, "we realized it was almost impossible to deliver the training at scale and speed while maintaining a high level of quality."
For more information about Gemba, email: theteam@gemba.com